GentingBet Review
Stability comes to mind when thinking Genting. Genting has been in business for over 50 years, and that can be important when looking for the right online casino, because no one wants their money to disappear. GentingBet is an online casino from Genting that offers a positive user experience and some interesting games, but the casino is held back by minimal bonuses that sometimes come with signing up to gamble. The casino is one of the better choices that is out there, but some of the sleek bonuses and site experience are not here, though playing at the casino still has a lot of merit.
User Experience
GentingBet is a part of a global casino brand, Genting. The website has visuals that are a little stark and take a second to process, but soon it is possible to navigate and use the site. Getting around the website involves the typical online casino method of clicking on the links for the type of gambling the user wants, and then the site loads a page with games of that type. The site promises that it is usable anywhere, on any device. This is great news for the mobile gambler because they can work out their gaming time on their terms, without bowing to the need for a brick-and-mortar place to gamble. There are going to be unique gambling situations that would make this the right place to play solely for that reason. Someone needing to use a cell phone or a smart TV to wager with would being able to gamble with real money without getting new hardware to do so. The user experience here is recommendable.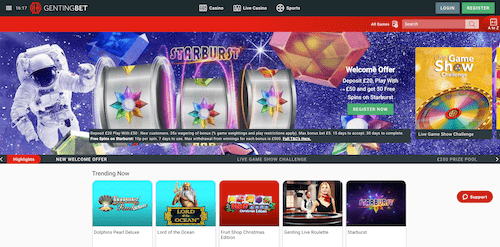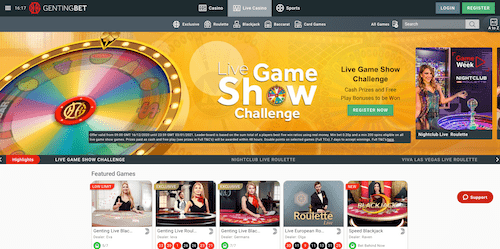 Games and Software
The casino offers games through ten providers for a nice choice of software. Primary software providers are Microgaming, Play'n GO, Red Tiger Gaming, and others. Games and software include live casino. Live monopoly is an interesting possibility that certainly brings variety. Software selection is strong, with a variety of slots, baccarat, roulette, blackjack, and a selection of table games. There is jackpot at the casino, along with some options exclusive to GentingBet. Overall, there is casino and betting, but poker is distinctly lacking here. Despite this, the games offered provide enough variety to come recommended, and the live casino offers some interesting choices, so this section grades out strong.
License Check: Scam or Not?
Both the Malta and UK gambling authorities license GentingBet. Genting has over 50 years in the industry, making them a legitimate casino in every respect. The brand GentingBet itself has been in business since 2008, and that is longer than some of the other legitimate online casinos out there. This is a good, normal casino, and the user can rest easy that the play will be legitimate and fair here. There are more strict deposit and withdrawal terms here, and that may play into the casino being more legitimate than some others found on the internet. The casino offers a good Alexa ranking, which is for showing the level of stability a casino has online. It is an above average figure for GentingBet, and that shows that the casino is secure because it has a lot of users.
Deposit and Payout at the Casino
The casino accepts Visa and MasterCard, along with other debt cards for deposit. Depositors can also use direct cash, Maestro, and Visa Electron. Players withdrawing use the same methods. The currency used at the casino is the British Pound, and deposits are a minimum of £10. Players' withdrawals are limited to £10,000, while minimum withdrawals are also £10. It is possible to deposit in Euros, through that is not the currency the casino uses. Transactions are subject to monitoring for illegal activity, including money laundering. Any cases of such activity will lead to a report with the legal authorities. The casino aims to process withdrawals over a four to five business day period, though the casino does not guarantee this. The casino charges 10% of funds withdrawn not used for gambling. There are more specific terms and conditions for withdrawals depending on the type of withdrawal method used.
Bonuses and Promotions
This casino used to have a first deposit bonus that players cannot have anymore. The bonus is still on the front page of the website, but let there be no confusion, it has expired. There is still a welcome package that the casino offers though. It is 100% matching on a deposit of up to £100. The wagering requirements for the bonus are 40x the bet with a maximum bet of £5. The minimum deposit to activate the bonus is £20. The bonuses here are minimal, and that does not seem to be a fundamental feature of the casino. GentingBet really does have only one current bonus, something not seen at a lot of other casinos. If bonuses are important to a player deciding which casino to use, then GentingBet is not the right casino for them. Look elsewhere for bonuses at other casinos online.
What You Will Like
The brand is part of Genting, and that is sufficient to ensure that players are at a decent casino that will not cheat them or go under with their winnings still not cashed out. The casino offers play on any device, and that can be joyous if there is trouble finding the right equipment or location to gamble. Live casino is always a big draw when gambling online, and this company has fun choices for those seeking live gambling. If someone is looking for a safe casino that takes care not to addict those using it, this is a top selection too. The casino is involved in providing a safe, responsible gambling environment, and that is commendable. There are compelling grounds to like this casino.
What Could Be Improved
There are stricter deposit and withdrawal terms here than at some other casinos, though this could be part of why the casino is so stably in business, so it is not exclusively a downside. Players cannot use the casino in the United States, and there is a list of countries that gambling is impossible in. This means that a lot people looking to use the casino need to look elsewhere. There are minimal bonuses offered at GentingBet, and that is a major disappointment. Significantly, an old, discontinued bonus sits on the company's website front and center. Bonuses are not the right reason to be using this casino. Apart from some stringent terms and a decided lack of bonuses, this casino does not have much to not like, which is the direction it seems to be taking to earn players.
Final Thoughts
This is a casino that offers stability without question, and that appeals to someone looking to gamble without any added risks to the money put into it. One of the biggest flaws that this casino has is that it is unavailable in the United States, which takes a giant bite out of people who can use it at all. Minimal bonuses disappoint some, but that is not the reason this casino has a lot of players. Sometimes the game selection is important, and GentingBet offers the right kind of choices, and games like live monopoly and some exclusive options make this a plus for choosing the casino. GentingBet might not be the best casino for bonuses, but there is nothing telling the player to stay away from this casino, and that might have been what Genting wants to do with this platform.