It's an interesting question. Do casinos care if you win? One might be inclined to think yes - of course. They are running a business to make a profit, and player winnings impact their bottom line. In the complex work of casino gambling, however, things are not that straightforward. Frequent losses are part and parcel of running a casino. When players win, it has its advantages and disadvantages. This is especially true if the amount won is significant. This article explores the subject in greater depth and explains how casinos profit whether you win or lose.
Highly Rated Online Casinos in your country
View the most highly rated online casinos in your country based on performance and user feedback:
Only for
Casino Name
Geo
Bonus
Key Features
Rank
Visit Casino
The Statistical Advantage
Casinos have been around since the seventeenth century. This has provided these historical institutions ample time to perfect their business model to maintain an edge in games of chance. But if they never lost, no one would play at the casino. It stands to reason, therefore, that casinos accept that a statistical percentage of players will win. The fact that some not only win but can also win big, seemingly to the detriment of the casinos' profits, can also play to the advantage of a gambling establishment. News of a substantial win on the slots and tables travels fast and encourages more people to have a go. Ultimately, this benefits the casino by expanding its customer base through the most effective form of marketing – word of mouth.
The modern casino understands that losing is an essential part of their business model. Still, they will nonetheless consistently profit via the statistical advantage the game rules provide. Commonly referred to as the house edge. Much like a bookmaker, casino winnings will be larger than losses over time. It is this slight advantage that ensures that they remain profitable.
The window for making a loss on any table game is also relatively small. A casino is only genuinely risking its own money anyway at the start of a game. Once a table game is underway, casinos generally hold back profits to cover player winnings. When the house has accumulated enough winnings to cover losses plus a small profit, players essentially play against each other, with player losses paying for player winnings.
It sometimes depends on the casino game you play
With a slick, tried and tested operation in place, casinos can often be seen as a middleman for the gambling transactions of their customers. With minimal risk to themselves, they earn a small percentage for arranging and hosting games of chance. The amount of risk they are exposed to often depends on the type of game. As we have already mentioned, traditional table games expose a casino to a manageable amount of risk due to how money and risk are managed. Overseeing other games, such as poker and slots, can sometimes provide a gambling venue with a greater reward for less risk. Take poker, for instance. Poker is played between players in online and brick and mortar casinos and not with the dealer. This means that players bear the entire risk. In this game, the casino earns by hosting the game or tournament. This might be through an admission fee or a pot rake, which can be anywhere between 2.5 to 10 percent of each hand.
Slot games are the most popular game at the casino, in the real world, and online. They can be very profitable, but did you know casinos can sometimes offer these games with no risk of being out of pocket when someone lands the jackpot? This is due to the contractual arrangements a casino has with slot game creators and manufacturers. Many suppliers essentially lease slot games to casinos and take full responsibility for paying out on jackpots. It is a win-win for a real-world casino as they receive a profit percentage for making the game available to their customers. It can be an excellent deal for manufacturers too, who take the lion's share of the profits without the marketing overhead.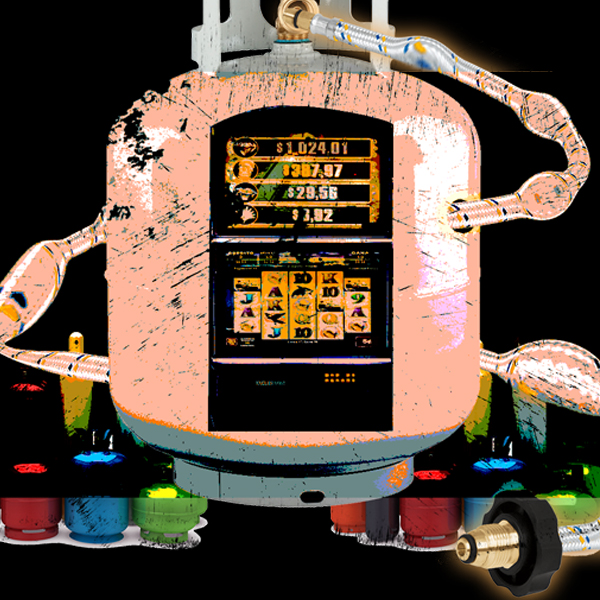 The Type of Casino Matters
This type of arrangement is more prevalent online. Almost all online casinos contract with multiple software games companies for the provision of game content. For a custom-built site, game content in the form of casino games can cost anywhere between $100k to 250K. However, many new online casinos these days are simply white-label ready-to-go sites that can be set up with a unique domain and branding. Companies that supply this type of solution provide access to casino software, gambling licenses, Payment processors, and game content with a limited degree of customization. A substantial benefit to this kind of arrangement is that the provider assumes responsibility for customer deposits and payouts. White-label casino operators are free to focus on marketing and promotion and not get bogged down with the ins and outs of player winnings and losses, among other technical issues.
Reserve for Player Payments
As part of the requirements needed to obtain a gambling license, Casinos must also set aside a reserve to guarantee payments to winning players. These are essentially funds that the casino expects to lose, which are factored into the balance sheet. For a reputable and responsible casino, loss from player winnings is not something to be overly concerned about. White-label casino operators, which make up the majority of online casinos these days, do not even have this kind of concern. It is the site provider that assumes full responsibility for winning player payments.
Casinos don't like cheats
As we have already alluded to, casinos generally don't mind so much if you win. Still, one thing they won't tolerate is cheating. Suppose someone is on a hot streak and winning a lot of money. In that case, you can be sure that security will be watching you when playing at a traditional brick-and-mortar establishment. Online casinos have also invested significant amounts in security. From this perspective, it appears to be okay if you win, as long you play fair.
The answer to the question
Legitimately licensed casinos don't mind if you win as long as you don't cheat. They have already factored it in and know they can still make a good profit. From their point of view, it is good for long-term sustainable business.