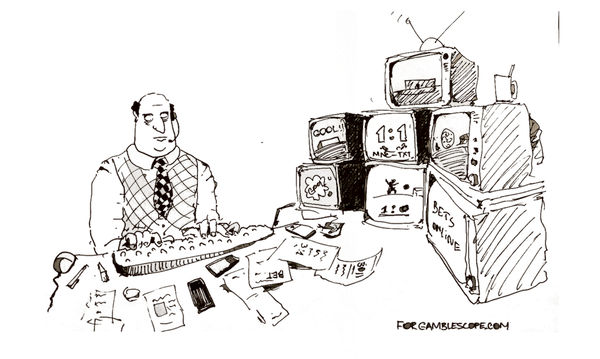 There are a great many sports available for bettors to gamble on. If you can play it, you can wager it; there will always be a bookmaker that will take the bet.
Bookmakers and Sportsbooks, however, tend to publish betting odds for the most popular sports, i.e. the sports that punters are most familiar with, such as football, horse racing, tennis, and golf to name a few.
To the novice, the world of sports betting can be a bit of a minefield. The complexities of betting odds, what type of bet to place, who to place a bet with, how to place a sports bet with a sportsbook, and where to find the best betting odds for a particular event, these are just some of the hurdles a punter faces which are challenging for even the most experienced among us.
This page lists a series of sports betting strategy guides covering all the major betting sports. They are intended to educate readers on all the points mentioned above to help beginners, and experienced punters alike find the best value bets in each sport and advise on the things to avoid in each sport.
We aim to inform and educate real money bettors so they may have a better understanding of the options available and how to get the best advantage possible from wagering on a sporting event.
We hope you will find the info you seek in amongst the sections available as shown above. GambleScope provides a significant amount of information covering all areas of gambling and online gambling in particular. It is therefore highly possible that further information relating to the topic of interest can be found elsewhere on the GambleScope website.
HORSE RACING BETTING - Just like any other sport, placing a bet on horse racing is quite easy. Gone are the days when you had to purchase a newspaper to follow the current racing matches, and their odds then head out to attend the race in the scorching heat. Horse betting online gives you an opportunity to learn and understand everything from the form, news, video, report and track information.
BASKETBALL BETTING - When it comes to betting, NBA is one of the most popular forms of sports wagering. It is not only easy to understand; but, it is also fun and value for your investment. You will get drawn to basketball giants such as LeBron James, Michael Jordan, and Kobe Bryant.
FOOTBALL BETTING - Again, it's always important to stress the risk involved when betting. The bookmakers will always hold the edge, and with the big companies turning over BILLIONS a year, a level of reality must ever be observed when taking on the bookies.
BOXING BETTTING - When considering what markets to bet on before a boxing contest, there are many factors to consider. Odds are usually so far skewed in the direction of the favourite that there will be many opportunities to take full advantage of the underdog prevailing.
SNOOKER BETTING - With more snooker available now than ever, the more opportunity we have as punters to find the best bets and best value possible. Staying one step ahead of the odds compilers is crucial to do so. However, that requires a solid foundation of knowledge hard to keep on top of in a sport like snooker.
GOLF BETTING - An important take-away when it comes to betting on Golf is that it is a sport that relies heavily on form and mental strength. These two factors can change daily across all types of player, so don't be stubborn with your choices! Just because you have been using specific betting patterns for the previous four tournaments, don't be afraid to mix things up and change tactics.
DARTS BETTING - One of the most profitable betting strategies for darts comes in the early stages of big tournaments. The most prestigious competitions in the darts calendar are widely considered to be the World Championship, Premier League, Matchplay, Grand Slam, Grand Prix, UK Open, Players Championship and European Championship.
TENNIS BETTING - So, how can we win money on tennis betting? Studying the above pointers will leave us in a position of knowledge to tackle the big tournaments, but we still need to find the right markets to attack.
FORMULA 1 - Being fluid, and open to the idea of betting in-play can prove hugely beneficial when looking to win on Formula 1 betting. A race can change in a heartbeat on any of the 21 race circuits, so trying to anticipate changes to the race could prove the most prominent road to profit.
BASEBALL BETTING - One important factor to bear in mind when considering a bet on baseball is the weather, and more specifically the wind and its direction. This can have a significant bearing on the outcome of the game and particularly the number of runs in the match.
CRICKET BETTING - With popularity comes both extensive tv coverage and of course the main focus of this article – cricket betting. Be it fixed odds, betting in play, or on the spreads markets, there are fewer games which lend themselves so readily to a wide array of punting options.
GREYHOUND BETTING - To many betting fans, the sport of Greyhound Racing is still seen as the poorer cousin of horse racing. In respect of money and profile, there may well be some truth in this, but those who spurn this medium are missing a trick or two in terms of high-octane excitement and profitable betting opportunities. So why should we bet on the dogs?
POLITICAL BETTING - Enter the world of political betting. Initially seen as something of a publicity stunt by those ever media savvy betting companies, it has now grown into a hugely popular punting medium, with the firms reporting new record levels of turnover with each passing political event.