While searching for the best bookmaker to place a sports bet, you may have stumbled upon the term Betting Agent or Betting Broker. But what is a Betting agent? This article explains what a betting agent is and the service and benefits they offer.
Before we do, let's explain some of the terms we will be using.
Sports bettor: Someone who places bets on sporting events.

Bookmaker: A person or organisation that accepts bets at agreed odds.

Soft Bookmakers: Low volume, high marginmainstream Bookmakers.

Betting Exchange: A marketplace for sports bettors to place bets with each other on sporting event outcomes.

Sharp Bookies: High volume, low margin bookmakers.

Arbitrage Sports Betting: The process of simultaneously placing bets on all possible outcomes of a sporting event at odds which guarantee a profit.

Betting Agent or Betting Broker: The intermediary between sports bettor and bookmaker.
What is a Betting Agent or Betting Broker?
Betting agents and betting brokers are fundamentally the same thing. It is simply a person or organisation that acts as a middleman between you and a bookmaker to place a sporting bet. Of course, it is easy for anyone to place a wager with a bookmaker directly. So why would you use an agent? First of all, Betting Agents typically do much more than simply place bets for their customers. While all betting agents and brokers are different, they all provide additional added value services to make the entire process of placing a wager easy and financially advantageous. Also, it is worth pointing out that betting brokers are not tied agents. In the same way that agents in other industries source multiple suppliers to find their client the best deal, Betting agents are no different.
Why Should I Use a Betting Agent or Broker?
Now you understand what a Betting Agent is, let us consider the reasons why you might benefit from using one. While not all agents work the same way, many have the same advantages in common. As previously mentioned, one thing they do have in common is that by using an agent, you will have access to the best odds from multiple bookmakers. Because transactions go through the broker, sports bettors can place bets with many different bookmakers without the need to open dozens of different accounts. This saves on time and administration. It also means that the bettor can place a bet with the bookmaker anonymously, which is a significant benefit for successful gamblers who are banned from bookmakers because they win too much. Yes, that really happens!
Having only one account offers the convenience of having to deal with one person or organisation for all your bets. Some of the more prominent agents (as recommended at the end of this article) provide a betting platform that allows bettors to view the best odds offered by all the bookmakers they use and place multiple bets instantaneously. This type of Agent will provide excellent customer service facilities over the phone and via live chat. This level of personal service goes above and beyond that which is offered by traditional high street bookmakers. To this extent, some also provide advanced VIP services to High Rollers, such as fund management facilities and exceptionally high betting limits (The maximum across all bookmakers).
Access to Better Odds for Greater Profits
Gaining access to the bookmakers with the best odds is without a doubt the single best reason to use a Betting Agent. Brokers and agents can open accounts with sharp bookies (AKA base bookies). Because this type of bookmaker can take bets in high volume, they can offer odds with low-profit margins. Since their profits are very marginal, they tend to act very quickly to changes that occur before a sporting event commences, such as player injuries in football, or changes to the weather in racing events etc.
These bookies shape the market in many of the most popular betting sports, so when they act, mainstream bookmakers follow. Since many of the best sharp bookies are Asian and deal only in volume trades, it is difficult for most outsiders to gain access. These types of bookie are not always available in all countries around the world. Even places like the US (which has stringent gambling laws) and the United Kingdom, where gambling taxes imposed on Asian bookies drove many, such as Pinnacle and SBOBET, out of the country.
Mainstream high-street bookmakers in Europe (AKA Soft Bookies) typically aim for a profit of between 5 and 12 per cent on a sporting event. To achieve this, they need to offer odds that are generally low and unfavourable to the bettor. This is in contrast to the 1 – 3 per cent margins charged by sharp agents such as Pinnacle, SBOBET and 188BET, or Matchbook and Betfair exchanges. Given the vastly superior odds offered by these base bookmakers, it is often much more profitable to use an agent even when we take agent fees and commissions into consideration.
How much Do Betting Agents and Brokers Typically Charge?
Betting agents and Brokers usually earn a commission from bookmakers for bringing business their way. But this doesn't necessarily mean they won't charge you for the services they provide. Some agents will charge a fee for placing a bet. Brokers often take care of the process of depositing and withdrawing money on your behalf. They can also provide the means to move money from one bookmaker account to another. Just like there are transaction fees to consider for making withdrawals and bank transfers at an online casino, the same applies when using a Betting Agent. Others may simply charge a small commission on winning bets. Either way, most bettors consider them value for money for the services and opportunities they provide.
Would I Benefit from Using a Betting Agent?
When taking fees and commissions into consideration, not all bettors would benefit from using a betting agent. But if you bet on sports regularly, and like to wager large bets, then it could be well worth employing the services of an agent. There are also certain situations where it is highly advisable to use an intermediary. Professional gamblers, for instance, will almost certainly benefit from the services brokers offer. Placing volume bets require a lot of administration and financial management, which is minimised by using a Betting Agent. Also, high street bookmakers don't like to lose, and when a punter regularly wins, it tends to result in account closures and betting limitations for high stakes players. Aside from the obvious benefits that better odds bring, professional gamblers can wager the maximum amounts anonymously without any problem through a broker.
Arbitrage sports bettors would also benefit significantly by using a betting agent. Arbitrage sports betting is the processes of simultaneously placing bets on all possible outcomes of a sporting event at odds which guarantee a profit. Such betting opportunities (frequently referred to as arbs) often occur in the time it takes mainstream bookmakers to respond to changes in price made by base (AKA sharp) bookies. And they usually respond very quickly to keep their books in balance and eliminate possible arbitrage opportunities. Suffice it to say; Arbitrage Sports Bettors need to place arb opportunities very quickly, most likely using the odds sharp bookmakers and betting exchanges are offering. For many, using a broker to place such bets is invaluable and necessary.
There is one other type of sports bettor that would greatly benefit by using a Betting Agent. For gamblers who like to wager in the Asian sports markets, especially in lesser sports and lower leagues, Betting Agent services are essential. Not least, because it would be otherwise impossible to gain access to the best Asian bookmakers from outside of the country.
How to Open an Account with a Betting Broker
It is easier than you might think to use the services of a Betting Broker. In fact, it is generally as easy as opening an account with any online bookmaker. Once you have selected an agent that provides the services you require, the standard process is to either open an account online or call them direct. Note that if you open an account online, you may also be contacted by customer support to complete the process, depending on the Agent you want to use.
You will also need to consider the level of service or the type of services you need. Choose a service that meets your requirements based on the level of transactions you are making. Finally, you will also have to deposit funds to open an account. While agent requirements vary, it is highly likely that you will have to deposit at least 100 currency units in British Pounds, Euros or American Dollars to open an account. With most agents, that's all there is to it, and you can be up and running in no time.
What are the Best Betting Agents to Use?
Generally speaking, it is highly advisable to use only trusted and established Betting Agents. Not only because they will be handling your finances, but also because they have accounts with the best bookmakers in the industry. Here are a few options worth considering.
Malta-based Brokerage Service regulated by the Curacao. Provides customers with access to best Asian bookmakers, brokerage facilities and betting software.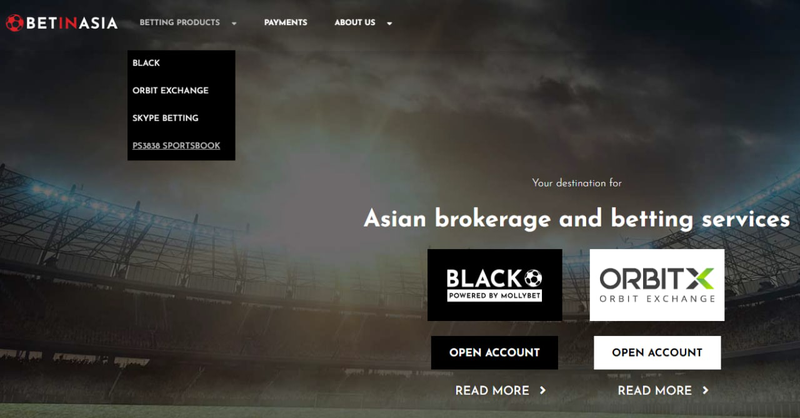 Bit-IBC has been a high-level betting agent since 2007. The range of services they offer makes then ideally suited to high-stakes bettors, with fantastic odds and extremely high betting limits. They have established an excellent reputation and trade with many of the biggest Asian bookmakers, which includes Pinnacle Sports, Betfair, SBOBET, and Ps3838, among others. Combined with 24/7 customer service, BET-IBC is the perfect choice for anyone who takes their sports betting seriously.
Sportmarket Pro is a sports betting platform which gives you access to a dozen bookmakers with the highest odds and limits. The company also offers several private accounts with some of the biggest bookmakers and exchanges around which include Matchbook, Betdaq, MaxBet and 18bet. It is a favourite amongst pro gamblers as it also offers live casino and a seamless experience to bet on multiple sports and games through one account. One other major plus is that Sportmarket supplies a mobile application, so you can place your bets anywhere, anytime, while on the go.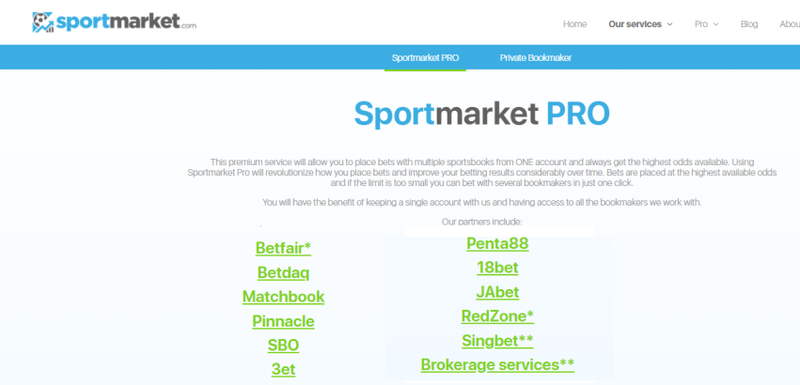 Premium Tradings is a Bet Broker established by some of the pioneers of online sports betting. Their goal is to provide a service that gives the best odds and highest limits to private punters as well as syndicates. They are a top Betting Broker with vast experience in football and the Asian Handicap markets. Like BET-IBC, Premium Tradings opens accounts with some of the best Asian bookmakers such as Pinnacle, SBOBET, MaxBet and 18bet, to name a few. Also, like BET-IBC, Premium Tradings platform offers high-quality tools to allow bettors to scan the odds on multiple bookmakers from one central place.