Free Blackjack Simulator
History of Blackjack
Blackjack, also known as 21, was first introduced in the early 21st century in France. By then, its popularity had already spread from North America to other parts of the world. When Edward Thorp, a mathematics professor, was studying the game, he invented first card counting techniques and blackjack basic strategies for beginners.
Rules How to play Blackjack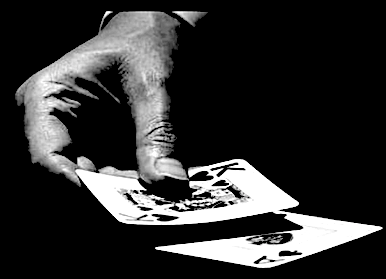 We start at the beginning. Blackjack is played with one regular deck of 52 cards. Jokers are not used. Each card has a point value, so all numbered cards have their respective values. For example, a 4 is worth four points. For the bigger cards (King, Queen, and Jack), the value is always of 10 points, each. The Ace is a bit trickier since it can add 1 point to the total, or 11.
Now that you know how the cards are scored, it is time to move to the way they are dealt. The freshly shuffled deck is held on the side of the dealer and cards are dealt from the top. The player gets one card, then the dealer gets one and then the process is repeated. Both cards belonging to the player are visible while one card held by the dealer is showing and the other is facing down.
After the cards are dealt, you will have two or more options for continuing the hand. You can opt to Hit, and you will get another card from the deck. The other standard option is to Stand, in which case you are satisfied with the current hand and don't want to change it. Other options that are situational are; to Split and divide two identical cards by adding another bet and playing both hands separately. Double Down, and double the wager for one additional card on a hand that is of 10 or 11 points. Buy Insurance, and pay extra when the dealer is showing an Ace to get 2:1 if the casino side gets 21.
Each player should work his/her way up to achieve a two-card 21, considerably a Blackjack. For instance, blackjack will award odds of 3-2; two-card 21 on a $5 bet with a $7.5 instead of $5. If by any circumstance the dealer also has a two-card totaling to 21, it is considered a tie and your original betting amount is refunded. Nevertheless, if the dealer goes ahead to draw 21 on a three or more cards, you are the blackjack winner earning 3-2 payoff.
The house edge comes from the fact that the player has to act first and can go bust without the dealer getting any more cards. However, the decision to hit or stand can influence the actual house edge. If you are using optimal play, you will benefit from a low house advantage of around 0.5%.
There are no additional bets to consider for Blackjack online. A winning hand pays 1:1 while getting 21 from the first two cards will generate a payout of 3:2. Compared to other casino games, the payout rates are quite low, and this might discourage some gamblers from taking a seat at the tables. In most cases, you will only double your bet if you win. Other games have more exciting options, such as straight numbers in roulette paying 35:1. Depending on what you want from a casino game, this is something to consider before playing blackjack for real money.
Most blackjack rules force the dealer to stand on 17 and draw to 16. There are also some additional moves based on the situation. If the dealer has an Ace showing, the player can buy insurance for an extra bet and get 2:1 if the dealer gets 21 from the first cards, also known as blackjack. Also, you can Split two identical cards into two separate hands for another bet. If you have 10 or 11 in total on the first two cards, you can Double and add another bet equal to the initial stake for one extra card. Free blackjack practice is available in popular gambling sites to help beginners master a few tricks.
Best Blackjack Strategy to Lower the House Edge
The goal here is to lower the house edge and make sure that you get the best results during your session. You can do this by following a set of rules known as Blackjack Basic Strategy. The highlight is basically to stand if you have 17 or higher. For 13-16, you should stand if the dealer has a 6 or lower and hit if he is showing a 7 or a higher card. For 12, it is best to hit in most cases, except if the dealer has a 4, 5, or a 6. If you have a hand of 10 or 11 and the blackjack game supports the double down feature, you should use it. For lower value hands, just hit and then follow the same rules.
For pairs, we recommend that you stand if the total is 20 and double down if you have two 5 cards. Other than that, it is best to split the two cards in most cases. While it might sound a bit difficult, the concept is actually easy to put into action and it is best to not get lost in the details if you just want to play for fun. If you follow these steps, you will play against a casino advantage of under 0.5%. Without using basic strategy and just playing by intuition, the house edge in Classic Blackjack is closer to 1%. The number of decks used is another factor that plays a role in the house edge. Most online casinos use six or eight decks, which makes it more difficult for players to keep track of the dealt cards. Fewer decks make for a lower house edge so we recommend checking this little detail before taking a seat.
Another popular strategy for blackjack is card counting. However, this is no longer viable as casinos have taken measures to prevent players from gaining an advantage. The decks are shuffled more often so the count is basically impossible to determine.
Since a winning hand in Blackjack pays 1:1 and the house edge is very low, you can also use classic betting strategies. For example, doubling the size of the stake after a loss can be a good way to cover the lost bet as long as your bankroll can support several double ups in a row.
Also a very popular strategy for blackjack is known as card counting. The concept here is that players can keep track of the dealt cards to establish what values are more likely to be dealt from the remaining stack. After a few hands, a count is determined, and the player then increases the bet and makes decisions based on the cards that are now more likely to appear. By using card counting, the house edge in blackjack can be changed from around 1% to -2%. In other words, players using this strategy actually have an advantage over the casino.
To prevent players from counting cards at the blackjack online tables, casinos now use multiple decks of cards and shuffle the stack very often. This makes it impossible to put the strategy into practice. Online casinos are even better at this since they can easily reshuffle the deck after every hand.
You will have to consider your cards and the one shown by the dealer. If you have 14 and higher and the dealer has one 6, you should stand. On the same hand but with the dealer having 7 and higher, the recommended approach is to hit, except if you have 17-20. For almost any 10 or 11, it is best to double down since 10 is the most common value card.
Learn About Multi-Hand Blackjack
Multi-Hand Blackjack is one of the most popular variants of the classic blackjack game. As the name suggests, it allows you to play multiple hands at the same time. You can have up to five different hands running, with each one competing against the same dealer hand. Other than that, the rules remain the same, so experienced players will have no issues becoming familiar with this version. The thrill factor increases when playing more hands and so this version is more entertaining than just having one hand to work with for every round. However, the payouts remain low since winning only results in doubling the bet in most cases. Even if you get a total of 21 from the first two cards, the Blackjack payout is only of 3 to 2. Gamblers who enjoy chasing bigger prizes are encouraged to try other casino games, like roulette, slots, and Sic Bo. If you are entirely new to the game, the Blackjack multiplayer feature should not discourage you from trying it out. You can still practice and learn the ropes with minimum bets or even for free if you are playing online.
Live Dealer Blackjack
Most online casino sites nowadays have a selection of live no download games, with blackjack simulators being the primary title. The software providers behind the tables can make a big difference. Each studio adds its own unique style to the experience, and there are also differences in the betting interface. Selecting the right developer can play a prominent role, and we present the pros and cons of three of the biggest brands: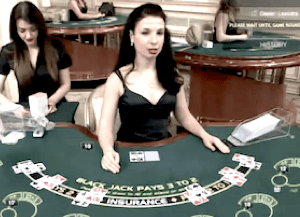 NetEnt is a provider that has some of the hottest online slots. Its catalogue also includes live games of high quality with an innovative interface. Live Blackjack tournaments comes with crisp video quality and interaction without delay. Table stats are included in the interface to see the previous ten hands played by the dealer.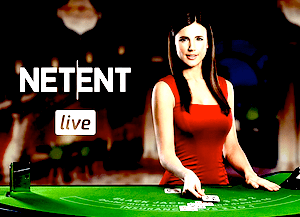 There aren't many casino developers that can match Playtech when it comes to reliability, functionality and style. The provider is known for powering some of the biggest casinos in the industry on its own with a complete gaming platform. Live Blackjack is of course featured with multiple tables that run 24/7.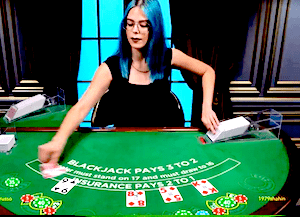 Probably the best developer of live games, Evolution Gaming is widely spread among online casinos. You can easily find a top gaming site that has games from this provider. The high quality and the dedicated lobby with a lot of Live Blackjack tables are sure to please players.
The Main Differences that Make Pontoon Unique
Since we mentioned quite often that Pontoon is a variation of blackjack, it shares the core set of rules. As a result, the game is played with multiple decks of cards. However, most variations don't use the four ten cards. Cards from 2 to 9 are worth their respective value for the hand total. The higher cards for K, Q, and J are each equivalent to 10 points. An Ace in hand can be worth 11 points or just 1, depending on what value is better for the hand total.
To win in Pontoon, your total has to be higher than the dealers without going over 21. Regular hands have a payout of 1 to 1 while hands that are equal to 21 from the first two cards (a card that is worth 10 points plus an Ace) are known as Pontoon and pay 3:2.
A notable difference is with the dealer's cards. Generally speaking, the dealer only gets one card to start with, which is facing up. This means that the casino side cannot get 21 from the beginning and instead has to wait for the players to conclude their hands before one or more cards can be drawn. Also, the player always wins with 21, even if it is formed with three or more cards and the dealer gets it from two. Other versions of Pontoon give the dealer two cards, but none of them are showing, which provides the player with a more significant disadvantage.
Most casinos have features to compensate in the case that the dealer gets Pontoon and the player used the split feature. In this case, original bets are lost while the additional stakes placed for split hands are returned.
Other unique features to keep an eye out for include a payout for 5 Card Trick, also known as Charlie. It offers a prize of 2:1 for a hand made with five cards where the total is of 21 or less. The most common side bet found at the tables is for Pair. The betting box is just above the main one and players can place their wagers at the start of the round. If you get two cards of the same rank from the beginning, you win 11:1 on the side bet.
Now that you know how the game works, all you have to do is take a seat at a table and place your bets. Keep in mind that the stake must be between table limits, which are displayed clearly. After you place your bet, the cards are dealt. If you want another card added to the value, you can Twist, also known as Hit. You can do so multiple times in a row as long as the total does not exceed 21. Once you are happy with the hand, you can Stick, or Stand.
Pontoon also allows players to Buy and double the bet before getting another card. After doubling, you can request additional cards if needed.
Strategy plays a prominent role when it comes to Pontoon because you have some influence on the outcome of a hand. The decision to twist, stick, or buy should not be taken lightly. Optimal play is based on the odds of winning and will provide the best house edge in the long run. While variations can appear during smaller sessions, things tend to average out. The basic strategy for Pontoon refers to always making the right decision to maximise the chances of winning.
With this in mind, there are some things to consider before taking a seat at the table. There can be many differences between Pontoon versions. First, you should not play if Pontoon hands are paid less than 3:2 since this is the standard payout rate. Second, avoid side bets, including buying insurance. Although these options offer attractive rates that can go up to 11:1, they are not worth the investment. Third, don't bet more than you can lose. This rule applies to all gambling games, and you should always play responsibly.
Now that we have the details out of the way, it is time to take a look at the actual Pontoon playing strategy that offers the lowest house edge. This applies to the variation where the dealer only has one card, and it is visible to the table. Also, 5 Card Trick does not apply, and doubling can only be done on hands of 10 or 11. The dealer has to hit on 16 or lower and stand on 17.
The detailed table presents the right decisions based on the current hand total and the card that the dealer is showing. If you start with 9 or anything lower, always twist (hit). If the game allows players to double their bet on 10 or on 11, make sure to use the buy (double) feature since it provides the best odds of winning more money. For 12 and 13, twist in every case, except if the dealer has a 6. On a hand of 14 points, you should twist unless the casino side has 4, 5, or 6, in which case it is better to stick (stand). On 15 or 16, stick if the dealer has 6 or a lower card and twist otherwise. For 17, 18, 19, 20, or 21, just stick.
VIP Blackjack Tips
VIP Blackjack sites is targeted towards a particular category of players. The betting limits are increased, and the lowest amount is generally €25. This makes it quite expensive if compared to the classic blackjack tables that can take bets as small as €1 in most casinos. From the start, it is safe to say that VIP Blackjack is for big spenders and the maximum betting limit solidifies this argument. You can bet as much as €1,000 for one hand in this particular version of the game, sometimes even exceeding this amount. The bigger bets make this version an unsuitable choice for the majority of players, both in land-based casinos and on online gaming sites. It is also a poor choice for beginners since it can be a costly way to learn how to play the game.
On the other hand, Blackjack sites is a great fit for players who want to get the best experience in a casino and are willing to put significant amounts of money on the line. There is an entire VIP experience that comes with the table. In a glamorous casino, you will be taken behind the red velvet rope and offered special VIP treatment at the blackjack table.
VIP Blackjack is not always the same. Casinos can add their own small tweaks to the gameplay, and these little changes can have a significant impact. When you are looking for a table to join, you should check a few details. First of all, make sure that blackjack pays 3 to 2. This is written on the table, and it is the standard rate. However, some games will pay 6:5 instead, giving the player a greater disadvantage.
Also, check the number of decks used. You can ask the dealer in a casino or look for the game info when playing online. Blackjack with four decks is the norm, but some operators can use as much as eight decks at a time, increasing the house edge with each additional deck.
Then there is the topic of side bets. Generally speaking, side bets in casino games are not recommended. VIP Blackjack is not an exception even with the potential to win 100:1. The odds of getting two Jacks of spades in the same hand are enormous, and so the bet is not worth it. Stick to the regular gameplay and don't worry about the side betting options. Buying insurance is also not a good idea since it doesn't offer a return significant enough to merit the payment.
Once you are seated at a good table, it is better to play based on basic strategy than by intuition. There are mobile apps that you can use to have the right move highlighted, but you can also learn the rules by playing more. For example, you should never hit if you already have 17 or higher. For 12-16, you should stand if the dealer has 6 or a lower value card showing. Doubling on 10 or 11 is almost always the best option.
The Pros and Cons of Playing Blackjack Sites
Looking back, it is clear that the list of pros is longer than the one for cons. Blackjack sites presents some excellent advantages and gives players the best conditions for winning. Even if the casino still has an advantage, it is very low. You can apply basic strategy and reduce it to just 0.15%. In this case, the game RTP is among the highest ones you can find in a casino.
One downside is that it is harder to learn all the rules when playing blackjack. The difficulty level is undoubtedly higher than it is in other casino games and there is more skill required to make the right decisions every time. You will, however, have a good time once you are familiar with the mechanics and see the winnings add up in the balance. A significant disadvantage is that some top rated onlinecasinos only pay 6 to 5 for getting blackjack while promising customers that only one single deck is used. The change in house edge is significant, and you should always play in versions that offer 3:2 for 21.
Is it possible to count cards online?
Generally, all players of card games are fully aware of card-counting while playing blackjack. The primary objective is to gauge if the deck has an appealing balance of cards remaining after several hands have been hit and you still have a powerful hand. If you learn how to count cards, it is easy to beat the game even without focusing on the bonuses. Even though card counting is considered legal, most casinos have banned it simply because of the advantage it has over naïve players.