Affordable computers and the Internet were real game-changers. But everyone desired more convenient ways to bet. So when smartphones gained momentum between 2000 and 2010, sportsbooks like William Hill, Ladbrokes, and Coral were quick to ride the wave. Ultimately, betting apps gave bettors a fast and direct path to placing a bet. It gave users:
One-step access — just start it, and you are there.

Capabilities tailored to smartphone specifications: screen size, OS and more.

The functionality of the main website in a pocket.

Safety.
Nowadays, any bettor wanting to lay down a few real money bets could access features such as odds, latest scores, betting options, deposits and withdrawals and support — all through the app.
But it wasn't a one-sided game, as sportsbooks also enjoyed the many advantages. Now they could:
easily gather usage data about bettors to use in marketing campaigns

create content and mechanics that weren't compatible with browsers of the time

"tie" bettors to them, creating a loyal community
All in all, the end of 2000s and the beginning of 2010s were the times when mobile sports betting began trending across the globe. There were dozens of sports betting apps available.
A Sudden Obstacle in Betting App Development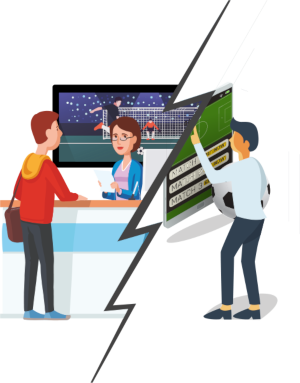 The good times didn't last long. Betting is subject to licensing regulations, but apps allowed people from all around the world to bet. By the beginning of 2010, governments started to pay attention. It was hard to sue an offshore bookie on the other side of the world, so officials found it easier to target Appstore and Google Play — 2 major digital stores used for downloading sportsbook apps.
Both Apple and Google chose to limit access to the apps where real money betting was allowed, rather than continually defending against charges that resulted in severe fines.
Google Play officially kicked out the sportsbook apps in 2013. Four years later lifted the ban, allowing significant companies to be present again and users from a number of countries, including the UK, France and Ireland, to legally download and use their apps. However, willing tech-savvy users living in other countries can still download them to bet on their favourite sports, including cricket, golf and Formula 1. I will show how to do it closer to the end of the article.
The Appstore was more lenient, allowing those holding an official bookie license to stay. Most major sportsbooks fell within this category, so bettors owning Apple devices can still easily download and use their apps today if their country of residence matches the country that issued the bookmaker license.
The Current State of Betting Apps
Due to Google Play limitations, many sportsbooks started offering their apps directly from their websites, thus avoiding the need to comply with the rules of app stores. However, while it's possible to install third-party APKs on Android, the user needs to permit it in the phone settings first. Many choose not to for reasons which included ignorance and virus threats. Furthermore, manually installed applications require manual updates, which makes it hard to keep bettors up to date.
In 2014, browsers started to challenge apps in usability with the introduction of HTML5 markup language. It became much easier to develop safe and smooth mobile-friendly websites. So a number of smaller bookies decided there was no point continuing mobile app development while they could get much more exposure by promoting their website.
Today even if you search for an app of your favourite sports bookie, chances are you'll find a page with a redirect to a mobile version of their website. All the betting options will be displayed there, including local favourites such as snooker and darts competitions. Owners have the opportunity just to set up an SEO-decoy. The big hitters, however, continue to develop their apps for the most part.
How to Pick Your Sports Betting App in 4 Steps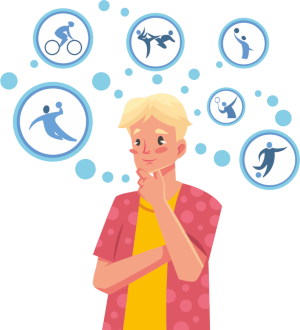 If you are new to mobile sports betting, but already looking to profit from it, picking your sports betting app is where it all begins. There are a few key factors to consider.
The first is deciding what you are looking to bet on exactly and making sure that the sports betting app features that sport. For example, if you love NFL or NBA and the app you were considering features mostly European football and a bare minimum of North American sports coverage, you're wasting your time.
The second key factor relates to currency support and depositing options. The sports betting app needs to offer the currency of your choice. For example, British pounds, US dollars or even Bitcoin.
The next consideration is to make sure your preferred payment solution is available. Major bookies usually offer a range of options including credit cards, eWallets and direct transfers.
Finally, give your potential sports betting app a thorough inspection. Make sure the user interface is well-designed and easy to use, and everything is running smoothly. Check what other sports bettors are saying about the app and weigh up the positive and negative points before settling.
Where to Get a UK Betting Application for iPhone or Android
Some sportsbooks don't provide dedicated apps anymore and have gone straight to direct browser login, similar to what you usually do from your desktop. However, here is a list of 11 major sportsbooks who still do provide apps for iOS, Android or both. All of them are legally available in the UK. But sometimes they were hidden deep within the site or Google Play, so I have found them for you.
How to Easily Install a Sports Betting App from Appstore and Google Play in the UK
Most betting apps are designed to be easy to install and easy to use. That's correct for both iOS and Android. You just open the store and search for a bookie app that you need.
Android provides additional options. Some sportsbooks choose not to put their apps in Google Play but offer downloads directly from their website.
However, if you just obtain an APK file and try to run it, most likely you'll see something like "this phone is not allowed to run third-party apps for your safety". As the phone owner, you have to allow that by:
opening phone settings menu -> security settings -> ticking "enable the Install from Unknown Sources" option (for Android 7 or older)

opening phone settings menu -> apps and notifications -> advanced -> special app access->install unknown apps->select the bookie app->toggle "allow from this source"->settings->enable&install (for Android 8 or newer)
Many phones run a customized Android OS so their settings may differ. You might need to search for instructions for your particular model. Once complete, just click the install button. Very easy if you currently reside in the UK!
Once the app is ready, opening it will give you a range of options. This may include things like logging in, signing up, accessing sports and betting markets, depositing funds, withdrawing winnings, and taking advantage of bonus offers, and so forth. Happy betting!
What if I Reside Outside of the United Kingdom but Really Want to Play?
If the desired sportsbook app is present in the store, but not available in your country, you can try getting it by temporarily changing your country in your store application, as well as on your phone. Maybe even accessing the store through a VPN, using a server in Great Britain to present yourself as a British resident. You might need to keep that VPN on at all times when playing since the app most likely has an IP filter and just won't allow you to connect to it with a non-British IP.
For Android users outside of Britain, there is the extra option of manually obtaining your desired bookie APKs from Google Play by using APK Downloader.
Get a computer or laptop with the Chrome browser. Other Chromium-based browsers like Opera and the new Firefox will work as well but may need extra setup

Go to Chrome Web Store, find an extension named APK Downloader, install it

Copy the Google Play link of the sportsbook desired.

Push the APK Downloader button (most likely in the top right side).

A page with an address bar will appear, copy your link there and push the "Generate Download Link" button.

After a while, you'll receive an option to download the latest version of the app available.

All you have to do now is to move the APK to your phone and install it.
Be warned; you do this at your own risk. You may find yourself unable to make a deposit or claim your winnings due to lack of payment options, slow refresh rate (due to a poor VPN connection) or possible ban for violating the license rules. So we don't advise using this method. Instead, we strongly recommend you to choose sports betting brands that are legally available in your country of residence.