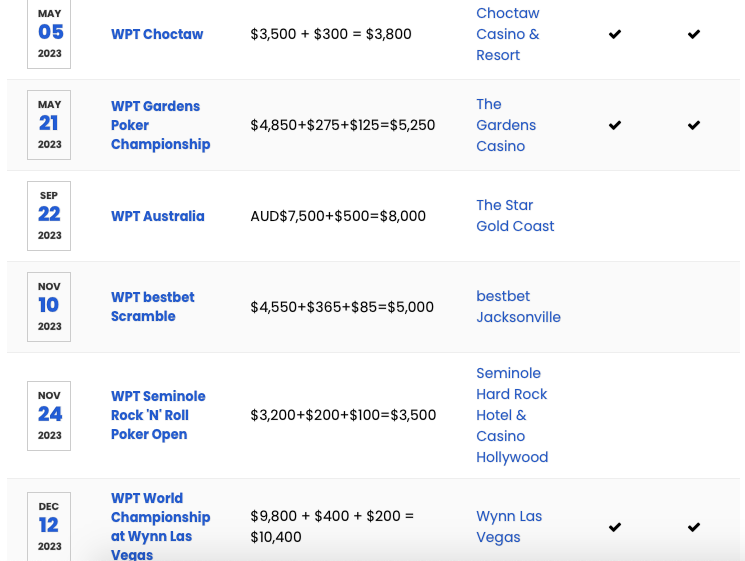 While the COVID-19 pandemic has been largely contained, sudden large outbreaks may still happen and we might have a potential Monkeypox pandemic on the way. So some offline World Poker Tour tournaments may be postponed or cancelled. We have to cope with this moment of uncertainty.
The World Poker Tour (WPT) was founded on May 27th, 2002, in the United States, starting World Poker Tour Season 1.
Today the WPT is a colossal brand that hosts many US and international poker tournaments. It has changed ownership over the years, with PartyGaming buying the WPT in November 2009. Later, PartyGaming merged with bwin and eventually sold the company to Ourgame international, which in turn sold it to Element Partners in 2021.
Being one of the first to popularize poker for the broader audience on television, the World Poker Tour currently broadcasts to over 150 countries on both TV and online media channels.
The WPT Tournaments
If you ask about how to enter a WPT tournament — which one will it be? After COVID-19 forced poker strictly into online venues in 2020-2021, offline games made a big return, with the number of online World Poker Tour events remaining roughly the same. All in all, around two hundred events will be hosted in 2022.
You can find the World Poker Tour schedule on their website. Most of these tournaments are generally open for anyone to enter, including all the events on the main tour. The buy-in for each tournament can vary depending on which World Poker Tour series you would like to join.
The cost of buying into a competition from the main tour ranges from $3,500-$20,000, comparable to or slightly above the rivalling WSOP buy-in cost. But you can get away with WPT buy-in of $50-$500, as the World Poker Tour offers cheaper tournaments in the form of their Deep Stacks and WPT 500 tours.
The WPT Deep Stack tours provide a great format where everyone starts with a lot of chips and big blinds, offering more playability at the beginning. The buy-in range is also more reasonable, ranging from just $50 - $2500 depending on the venue.
The WPT 500 also offers reasonably priced buy-in tournaments, all roughly around $500. However, if we add the rake that casinos charge for all of the tournaments they host, the total buy-in will usually be a little more than $500.
Some World Poker Tour tournaments events, however, are exclusive and invite-only. So you either have to be a renowned player or find your way through qualifications, if there are any.
Still, imagine that, in theory, you can enroll in one of the Main Tour events. Then win it and be awarded a WPT Champions Cup with your name engraved on the trophy. Winning a tournament will also give you membership to the WPT Champions Club and a pass to the majority of invite-only events. If you continue, you can even become a World Poker Tour Winner.
How to Enroll in a WPT Tournament
Check the list of upcoming WPT play events here and look through the requirements.
Step 1 — Choosing the Venue
This is based on your wish to play online or offline and your ability to reach specific venues if you wish to show up in person.
Offline WPT events are restricted to states where poker and gambling are legal in the US since casinos host many events. This means a lot of travelling — to Nevada, for example, or even boarding a gambling cruise to play outside US waters.
If you are into an extended stay with the WPT, perhaps it could be wise to apply for WPT Club membership. It costs $24.95 a month but allows you to partake in a broader range of tournaments, win money prizes and get easier access to the major games.
Step 2 — Assessing Your Bankroll
How much can you spend on a buy-in? As we have explained earlier, 500$ will usually be enough for an entry or mid-level tournament.
But buying in the full amount isn't the only option to enter one of these tournaments. You may also gain entry via a satellite or qualifier tournament.
A satellite is essentially a mini-tournament where the winner or winners will have the first and sometimes second prize be in the form of a ticket to a more significant WPT event. A winner's package can sometimes include hotel accommodation, free food, flights and even some spending money! A lot of these satellites are available to play both online and at live casinos across the world.
Online satellites will have a greater range of buy-in options. Satellites with a small buy-in option with the chance of a big WPT package will mean the field will be huge. Or you will need to win the ticket to the main WPT Tour in stages, qualifying to bigger satellites with the last satellite being the one offering the WPT ticket or package.
Step 3 — Enrolling in a Tournament
Sounds easier than it is. Unfortunately, there is no magic button for this, and often the info on the WPT site — worldpokertour.com is scarce. You have to search for the venue — online or offline casino hosting it and find a way to apply through their website or contact them directly.
Let's take an example — WPT Seminole Hard Rock Tampa on August 25-September 7 2022. You must physically be in Tampa to play in the tournament. But before that you will have to find a way to enroll — there is no easy "push the button and fill in a form" way. Often you have to travel to the venue to personally register right before the start with a hope that there still will be a place for you at the table. Things have not changed since the past as the organizators think that the players either already know how to do this or are determined enough to find out. A barrier of sorts to repel randoms?
After you've enrolled in a tournament, you have to pay the buy-in: either at the cash desk of the casino hosting the offline event or by any accepted means listed by the online venue.
Step 4 — Winning
Onwards, to victory! The total purse at a WPT event will depend on a few things, such as the buy-in, how many players entered, and how long you can stay in! The Main Tour will generally have the biggest prize pool and the biggest payouts. However, the buy-in amount and number of players entering will usually be the highest as well. If you win any tournament in the Main Tour, you will be guaranteed at least a 6 figure payout.
Going Up the World Poker Tour Leaderboard
The WPT has a leaderboard that features players who have earned points through playing in WPT tournaments and events. WPT tours come in seasons that generally last close to 1 year. Some may start in the summer and end next summer, while others might begin and end at different times of the year.
The World Poker Tour has a leaderboard for each tour that they offer. The player with the most points at the end of the season will be the winner. The 1st place prize can vary depending on the tour season.
Winners get the player of the Year title and a trophy. A WPT pass with a set amount of money that can be used only to buy into next season's tournaments is also a part of the package. The champion also receives free accommodation at some events, free ground transportation, free food, and usually some sort of award ceremony. Placing second or third on the WPT leaderboard can also give you a cash pass for a smaller sum to most WPT events worldwide.
The player of the year points are calculated based on the tournament's prize pool and the place achieved. Suppose you finish in the money, meaning you didn't lose all your chips before the payouts begin. In that case, you will automatically receive 50 points, regardless of the total prize pool. You must be in the money to earn points. If the prize pool is $500,000 or less, 1st place will give you 600 points. If the prize pool is $4,000,000 or more, 1st place will provide you with 1400 points. There are several different tours and leaderboards, some running simultaneously.
WPT Player of the Year tours
The Player of the Year award is an excellent way of recognizing a player who is doing well in the WPT by making more accessible access to high-ranked WPT poker tournaments.
Ranking high in the WPT leaderboards will get sponsors to notice your name quickly, like poker or gaming companies. Potentially, they will help cover your tournament expenses in exchange for promoting their brand. Meaning you will be able to play more and win more.
While the WPT has its roots in the US, now it has something to offer every type of poker player. There are events across the globe, so no matter where you live, you have an opportunity to play in one. The different types of tours and buy-ins make it easy for players to enter and enjoy their desirable tournament structure. WPT events can also be included in your holiday experience or give you a good reason to travel to various destinations across the globe.
Even if you don't live in the States, you can buy into a tournament hosted more closely to the place you live. Some tours open for the player of the year include
● WPT Main Tour
● WPT DeepStacks North American Tour
● WPT DeepStacks European Tour
● WPT Asia-Pacific Tour
● WPT India Tour
● WPT Japan
Are You the New Daniel Negreanu or Carlos Mortensen?
With to buy in or not to buy in being the question, we would like to tell you about two players who decided to buy in once. And now we know them as WPT poker stars Daniel Negreanu and Carlos Mortensen.
Daniel Negreanu
A lot of you may have heard this name. He is one of the more famous poker players around and is one of the personalities representing the Pokerstars brand. Daniel has made deep runs and cashed in WPT events many times, winning the 2nd highest revenue in WPT history. In doing so, earning just under 6 million dollars in his WPT tournaments alone. While these are extraordinary results from his WPT tournament play, it is only a tiny fraction of the nearly 40 million dollars he has won through his career.
Carlos Mortensen
He is famous for winning at WPT events, winning the most amount of money from WPT tournaments. He has won the World Series of Poker in Las Vegas, Nevada, and the 2004 WPT American Poker championship. Ultimately, this made him the first player to win two poker world championships.
Hey, even celebrities play poker! Why aren't you?