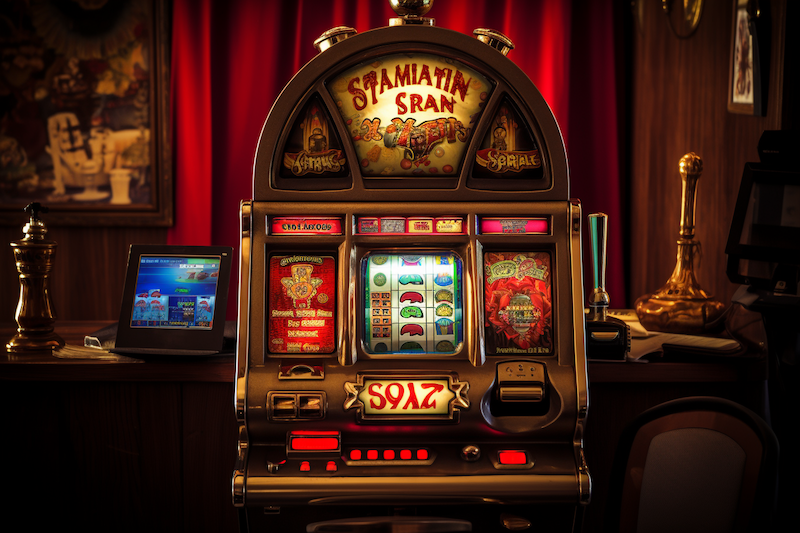 So how do know if the slot game we are playing comes from an official source or is a clone designed to cheat us from the potential to win big? This article explores the threat of Slot clone scams, what they are, how to spot a slot game clone, and how we can establish whether a slot game comes from an official source.
What is a slot clone?
A slot clone refers to a fraudulent or unauthorized copy of an existing slot game that is created to deceive players. These clones mimic the appearance, gameplay, and features of popular and successful slot games to mislead unsuspecting players into believing they are playing the authentic version.
These clones are often distributed through unauthorized channels, including shady online casinos or dubious websites. These scams not only deceive players but also tarnish the reputation of legitimate online casinos and game developers.
Risks of playing slot clones
Players should be aware of slot game clones and the potential risks they pose. Here are some of the risks involved with playing unofficial and unregulated slot clones.
Rigged gameplay
Slot clones created by unauthorized sources can manipulate the game mechanics to favor the house. These clones may adjust the payout percentages, alter the random number generation algorithms, or implement other unfair practices. As a result, players may experience a significantly lower chance of winning or encounter patterns that are not representative of fair gameplay.
Financial loss
Slot clones can be designed to deceive players into wagering larger amounts by falsely representing higher chances of winning. However, due to their rigged nature, players may end up losing substantial sums of money without a fair opportunity to win.
Lack of player protection
Unauthorized slot clones typically lack the player protection mechanisms found in regulated and licensed online casinos. These clones may not have responsible gambling tools, such as deposit limits or self-exclusion options, to help players manage their gambling habits. As a result, players may face an increased risk of developing gambling-related issues or losing control over their spending.
Absence of dispute resolution
If players encounter issues or disputes while playing slot clones, they may have limited or no recourse for resolving issues. Unauthorized sources may lack proper customer support channels or dispute resolution mechanisms, leaving players without avenues for seeking assistance or obtaining fair dispute resolutions.
Security concerns
Playing slot clones from untrustworthy sources can expose players to security risks. These clones may not employ robust security measures to protect players' personal and financial information, making them vulnerable to data breaches, identity theft, or financial fraud.
How to Identify counterfeit slot games
There are several key indicators that can help you distinguish between an authentic game from an official supplier and a clone.
Licensing and Regulation: Legitimate online casino games are typically developed and supplied by licensed and regulated software providers. Reputable game developers undergo thorough scrutiny by regulatory bodies to ensure fair play and the security of players' personal and financial information. Before playing a game, check the online casino's website or licensing authority to verify the authenticity of the supplier.
Reputation and Reviews: Established game providers have a track record of delivering high-quality and fair games. Conduct some research and read reviews from trusted sources to learn about the reputation of the game developer. Look for feedback on the game's fairness, reliability, and overall player experience.
Casino Accreditation: Trusted online casinos partner with reputable game suppliers. These casinos undergo rigorous evaluations to obtain accreditations from respected organizations such as eCOGRA (eCommerce Online Gaming Regulation and Assurance). Accreditation ensures that the casino operates within the industry's standards and offers fair games.
Game Distribution Channels: Official game suppliers distribute their games through recognized channels. They have partnerships with reputable online casinos and gaming platforms. Be cautious if you encounter a game that is exclusively available on unfamiliar or suspicious websites. Stick to well-known casinos and platforms that have a solid reputation.
Technical Aspects: Cloned games often lack the same level of polish and attention to detail as their authentic counterparts. Look for signs of poor graphics, awkward animations, or glitches that are not present in reputable games. Clones may also have limited functionality or missing features that are typically available in legitimate versions.
Payment Security: Authentic games are integrated with secure payment systems to ensure the protection of players' financial information. If you encounter a game that asks for unusual or suspicious payment methods, such as requesting payment directly to an individual's account rather than through a trusted payment gateway, it's likely a red flag indicating a potential scam.
5 Trusted and Legitimate slot game providers
One of the safest ways to protect yourself against slot game scams is to play online gambling games from safe and trusted casinos that provide games from the best slot game providers online. While these providers strive to maintain integrity, it's essential to verify the authenticity of the games and the platforms offering them to protect against slot game clones and scams. View a full list of the best online casinos by trusted software providers.
Here are the top 5 most trusted software suppliers of slot games.
Microgaming
Microgaming is a renowned and long-standing provider in the industry, offering a vast collection of high-quality slot games. With a focus on innovation and fair play, Microgaming ensures players are protected from slot game clones and scams.
Here's a list of the Best Microgaming casinos in your country
NetEnt
NetEnt is a leading game developer known for its visually stunning and feature-rich slot games. Their commitment to integrity and player protection safeguards against slot game clones and scams.
Here's a list of the Best NetEnt casinos in your country
Playtech
Playtech is a trusted provider known for its diverse portfolio of engaging slot games. With a strong emphasis on responsible gambling and fair play, Playtech ensures players are safeguarded against slot game clones and scams.
Here's a list of the Best Playtech casinos in your country
IGT: International Game Technology
IGT is a reputable provider offering a wide range of popular slot games. Their commitment to regulatory compliance and player protection helps prevent slot game clones and scams.
Here's a list of the Best IGT casinos in your country
Scientific Games
Scientific Games is a globally recognized provider known for its innovative slot game titles. With a focus on security and player trust, Scientific Games ensures a safe gaming environment, free from slot game clones and scams.
Here's a list of the Best Scientific Games casinos in your country
5 Safe Gambling Licence Authorities for Player Protection
Not all gambling licenses are the same. Some provide greater player protections than others and online casinos must prove a high level of integrity in order to obtain a license. In most instances, they also have to prove the randomness of the game engine they are using. This applies to both online casinos and casino game software providers.
The best licensing authorities prioritize player protection, responsible gambling, and fair gaming practices. Choosing online casinos licensed by these authorities provides players with a higher level of assurance and confidence in their gambling experience.
Here are the top 5 Online casino licensing authorities for player protection available worldwide:
The UKGC is widely regarded as one of the most reputable gambling regulatory bodies. Their strict regulations ensure high standards for player protection, fair play, and responsible gambling. Licensees undergo thorough scrutiny, and regular audits, and adhere to robust consumer protection measures.
The MGA is a well-respected licensing authority that oversees online gambling operators. Their licensing process includes stringent criteria, player fund protection, and comprehensive regulations. MGA license holders are required to maintain fair gaming practices and provide a secure environment for players.
The GSC is known for its stringent licensing requirements and strong player protection measures. It ensures that licensees adhere to strict regulations, including anti-money laundering procedures, responsible gambling policies, and player dispute resolution mechanisms.
The GRA is responsible for licensing and regulating online gambling in Gibraltar. It is known for its robust regulatory framework, including player protection, fairness, and transparency. Licensees must meet high standards of operational integrity and provide secure and reliable gambling services.
The AGCC is an independent regulatory body that focuses on player protection and ensuring fair play. Licensees must meet rigorous standards, including stringent due diligence checks, regular audits, and compliance with anti-money laundering regulations. The AGCC ensures a secure and trustworthy gambling environment.
Can Online Casinos in Curacao be trusted?
Online casinos licensed in Curacao can vary in terms of trustworthiness. While the Curacao eGaming authority is a legitimate licensing body, it is important to note that its regulations may not be as stringent as those from other reputable jurisdictions.
Some online casinos operating under the Curacao license maintain high standards of security, fairness, and player protection. They employ strong encryption protocols, undergo regular audits by independent testing agencies, and offer reliable customer support. These casinos prioritize responsible gambling measures and provide transparent terms and conditions.
However, it's also worth mentioning that the Curacao license has been associated with a higher number of less reputable and potentially fraudulent online casinos. These casinos may lack proper oversight and may not meet the industry's highest standards for player protection. To determine if an online casino licensed in Curacao can be trusted, it is important to conduct thorough research. Look for player reviews and feedback, check the casino's reputation, and verify its compliance with responsible gambling practices. Additionally, consider other factors such as game variety, payment methods, and customer support quality.
In general, while there are trustworthy online casinos licensed in Curacao, it is advisable to exercise caution and conduct due diligence before depositing funds or sharing personal information. Opting for casinos licensed in more stringent jurisdictions like the United Kingdom, Malta, or the Isle of Man might offer an added layer of trust and player protection.
Protection against Slot Game Fraud
To mitigate these risks, it is crucial for players to choose reputable and licensed online casinos, verify the authenticity of slot games, and exercise caution when exploring unfamiliar platforms. By doing so, players can protect themselves from the adverse consequences associated with playing slot clones and enjoy a safer and more enjoyable online gambling experience.
Reading and understanding the terms and conditions of online casinos and slot games is another key aspect of protection. Pay attention to payout policies, bonus terms, and dispute resolution procedures to ensure fairness and transparency. If any terms seem vague or unreasonable, it's advisable to proceed with caution or seek alternatives.
To safeguard personal and financial information, players should only engage in slot games on secure devices and networks. Use trusted antivirus and anti-malware software and avoid sharing sensitive details on unsecured platforms or public Wi-Fi networks.
It is crucial to stay informed about the latest scams and fraud tactics employed in the online gambling industry. Regularly update yourself with news, industry reports, and player forums to understand the current trends and potential risks. By being aware of common scam techniques, players can better identify and avoid fraudulent activities.
By following these protective measures, players can significantly reduce the risks associated with slot game fraud and enjoy a secure and enjoyable online gambling experience. Vigilance, responsible gambling practices, and choosing trusted platforms are key elements in safeguarding against slot game fraud.
What to do if you suspect slot game fraud
If you encounter any suspicious or fraudulent activities while playing slot games, report them immediately to the relevant authorities, such as the online casino's customer support or the appropriate gambling regulatory bodies. You can also report suspicious activities and complaints about online casinos here on Gamblescope. Reporting such activities helps protect other players and contributes to a safer gambling environment.
Final Thoughts
Online scammers with fake slots are getting harder to spot. Sometimes it might be just a feeling that something is not quit right. If you have any reason at all to suspect something is not quite as it should be, stop playing the slot games immediately and address your suspicions to those that can investigate and act.
The best way to protect yourself from cloned slots is to play at tried and trusted online casinos with an excellent reputation aligned with top casino developers as listed in our safe online casino list as shown above.
Safe and Trusted online casinos in 2023