In the iGaming industry, it hasn't gone mainstream due to the high cost of VR equipment. However, that will soon change as more casinos adopt the technology to offer players hypnotic experiences.
In other markets, the technology is blossoming, and the iGaming industry offers the perfect avenue for further growth of VR. However, to achieve that, VR casinos have to be widely accepted. There aren't many VR casinos, but their numbers are gradually multiplying.

What's a VR casino? How does it work? Where can I find one? These are some of the questions you might be asking. Fortunately, you're in the perfect venue as we'll answer all those questions. In addition, we'll dig deep to showcase the pros and cons of VR casinos and the requirements of playing at one. Go on; dive into the adventure of VR gambling!
What is Virtual Reality?
We'll take you through step by step to hone your skills in VR gambling. Before learning what VR casinos are, we need to know what VR is in the first place.
Therefore, Virtual Reality is a computer-simulated experience augmented or enhanced to mimic the real-world environment. In our case, VR simulates objects, scenes, and everything related to brick-and-mortar casinos.
So, What is a Virtual Reality (VR) Casino
Simply put that VR casinos are computer-generated simulations or imitations of land-based casinos. A VR casino recreates the atmosphere and experience of physical casinos with the help of a VR headset.
So, you can walk a casino's floor, have drinks, chat with other players while playing your favourite titles. What's even more appealing is that you can do all that while seated on the sofa, without moving a muscle!
VR casinos are garnering popularity because they offer players a more authentic and immersive experience than regular online casinos.
Playing at a VR casino is a thrilling adventure. You can create your avatar and interact virtually with other players while playing slots and table games in a digital realm.
Does it sound far-fetched? Well, it's possible because the technology already exists! You can check it out yourself below. Seeing is believing, right?
Best Virtual Reality (VR) Casinos in 2022
Only for
Casino Name
Geo
Bonus
Key Features
Rank
Visit Casino
Requirements of Playing at VR Casinos
VR is a rather sophisticated technology. Therefore, before creating an account at a VR casino, you need advanced devices to get the full VR experience. For starters, a regular computer just wouldn't cut it! So, if you're planning to play games at a VR casino, your computer must meet the following minimum requirements:
Operating System - Windows 7, 8, 10, or 11.

CPU Processor - AMD FX 8350, Intel Core i5- 4590, or greater.

Graphics Card - AMD Radeon RX 480, NVIDIA GeForce GTX 1060, or any latest model.

Memory RAM - 8GB or more.

Display - HDMI 1.3.

Video Ports - 2 USB 3.0 ports.
So, to enjoy a seamless VR experience, your computer must have matching or more excellent specs than those mentioned above. Besides an ultra-modern computer, you'll also require:
VR Headset
It's also known as a head-mounted display. To play VR casino games, you'll need a VR headset. It allows you to launch into the simulated land-based casino environment. VR headsets are pretty expensive. So, not every player may be able to afford one.
However, their prices will be more standard as the iGaming industry embraces this nifty technology. Oculus Rift, Google Daydream View, HTC Vive, Samsung, and Oculus Quest 2 are amongst the best VR headsets available.
Data Glove
The data glove has bio-sensors that enable the game to detect your presence and, consequently, your body movements. It helps transform your body actions into in-game commands. For example, it'll make the sensation of pulling a slot machine handle feel real.
The glove adds flair to the overall experience. However, you can still play VR games without the glove. You can use your keyboard and save some cash.
In addition, don't forget to get someplace cosy as you immerse yourself into the adrenaline-pumping realm of VR games. Of most importance, don't lose track of time! You can time yourself, but VR casinos also have a "Reality Check" function that briefly halts your gameplay. Always gamble responsibly!
How to Play at a VR Casino
Don't let the term VR scare you. You might think that playing VR games is challenging, but it isn't. It's straightforward, but first, you'll need to create an account at any of the above recommended VR casinos.
Additionally, you'll need an advanced computer as explained above, a VR headset, and stable Wi-Fi. You can then deposit, select an avatar, and play real money VR casino games.
So, What VR Casino Games are Available?
There aren't as many VR casino games as regular online casino titles. Nonetheless, the available few are unparalleled to their pseudo 3D and 2D counterparts. That's because they offer more riveting gaming experiences. You can sit at a Blackjack table peeking at your cards and surrounded by other players in real-time.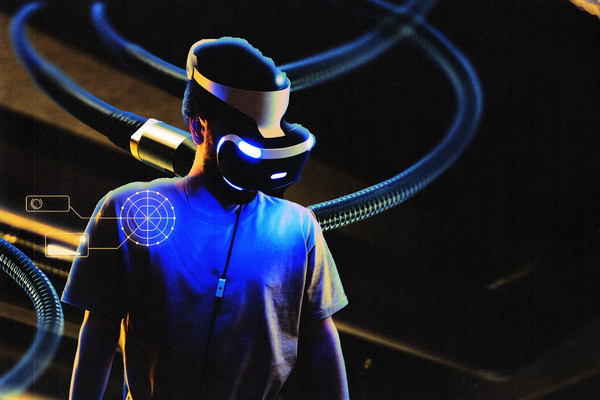 If you're a Roulette lover, you can watch as the ball bounces, hoping it lands on your selected number. Who wouldn't fancy that? That authentic casino-like ambience is what makes VR games so attractive. That said, some of the most popular VR casino games include:
VR Slots;

VR Roulette;

VR Blackjack;
Advantages and Disadvantages of VR Casinos
Unquestionably, VR technology is revolutionizing the online gambling industry. The overall user experience matters gravely to all players, and VR casinos provide an out-of-this-realm. Therefore, that makes VR casinos one for the future. However, it's not all merry as everything has its merits and demerits.
Pros
Offers a totally captivating and engaging experience.

There are continuous upgrades to the VR casino setting.

Provides a social venue for players to interact in a VR casino environment.

Allows players to enjoy the land-based casino atmosphere and experience.

Offers an excellent range of immersive games, which is set to increase.
Cons
VR equipment like headsets is expensive.

Health risks such as headaches may result from playing VR games for too long.

It can be very addictive due to its engaging nature.
Conclusion
Although VR gear is expensive, we expect it to be more affordable as VR casinos go mainstream. So, in the next few years, we can anticipate the growth of VR casinos and more VR games.
For now, if you have a VR headset, you can register at our recommended VR casinos to enjoy the exquisite VR experience at full throttle!