Chilli Casino Review
Casino gaming is getting popular and more interesting with the introduction of hot and spicy casino sites. Chilli casino will capture your attention because of its colorful interface. It is well organized, and you can quickly find games. There are lots of slots available because of the partnership with the best software providers. It is also easy to use, fun, and convenient. There are also other awesome features that you will get to know at the end of this review. So let's get into it.
User Experience
Chilli casino will give you one of the best gambling experiences because of its smooth and nice interface with various functionalities that perfectly make the website work without delays or bugs. It is also very attractive and colorful with lots of games that you can play instantly. There is also a mobile app that makes it quite convenient because you can access the games using your phone. However, it is important to understand that not all matches might be compatible with the app, so you might need to try using other versions. One of Chilli casino's key features is that it has reputable software providers with a track record in casino gambling. These include Microgaming, inspired gaming, red tiger, quick spin, and play tech. All these ensure you have a better gaming experience with an updated gaming list. Currently, there are approximately more than 500 games available in the casino, allowing you to select the one based on your preference. The quality of these games results from experienced service providers who have been in the field for over 20 years. The gameplay is also well programmed to give you a very strong impression of various game categories. You can also sort them alphabetically or using a software supplier.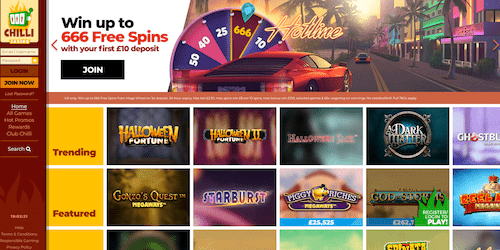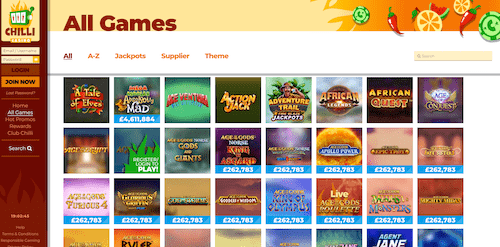 License check: Scam or not
Chilli casino is a reputable casino site that has been approved by the UK gambling commission because of its legitimate operations. It has also partnered with the best software providers to ensure you have the best gambling experience and guaranteed security when using the platform. The casino is owned by BGO entertainment and has been certified by UKGC, AGCC, and operates in up to 20 countries. Its trust score is excellent, with a rating of 9.6/10. The licensing of this platform is verified by the appropriate authorities implying that it is a legitimate site that you can rely on. The website is also encrypted using 128-bit keys to ensure all the data is kept private. Chilli casino also has a professional customer support team that allows you to contact them in case of any queries because they believe in transparency and accountability.
Deposits and withdrawal
Chilli casino allows you to deposit once you have logged in to the site. You can add funds you're your account using various payment methods, including Paysafecard, Neteller, MasterCard, Visa, PayPal, and citadel. The casino allows you to deposit 10 euros or more at a fee of 2.5% for any transaction less than €500.
Withdrawals are also facilitated at a fixed rate of 2.5 euros for each transaction made. The security team will have to verify your approval requests, and once the verification is complete, your funds will be released for withdrawal. You are can also choose to cancel any pending transaction. Once the whole process is complete, your money will be available to your bank account after a few days, but payments through PayPal or skill take a shorter time.
Bonuses and promotions
Chilli casino offers exclusive bonuses and promotions with a welcome bonus of 100% on the first deposit. You'll also get 10 free spins on the welcoming package for the next seven deposits. You'll also receive one free spin for £1 that you add to your account. The casino bonus package also allows for up to 150 free spins. Here is the deal, you can also participate in a promotion where you can earn up to 666 free spins once you make at least 10 Euros deposit to your account. After this, you can receive a mega wheel spin, which also comes with other exclusive rewards. If you win any free spins from the mega wheel, you will get a chance to have online slots. There are also 65 x wagering requirements that you need to fulfill with a maximum wagering limit of 2.5 per spin.
Remember you need to use your free spins within 24 hours after fulfilling the wagering requirement of up to 1 week. You can also sign up for the Chilli VIP club to get more bonuses and rewards. After signing in, you will be allowed to exchange your Chillis for real money, golden chips, or free spins.
What you will like
Chilli casino presents a unique impression at first sight. You will also have access to a good selection of games, which gives fulfilling gameplay. The good thing about the casino is that it accepts players from different countries and offers a unique, rewarding system. There is also no withdrawal limit and no fees for withdrawing or depositing. They provide live dealer games, which gives you a variety of options.
What could be improved
Chilli casino is a good platform, but after conducting extensive research, I found out there were some complaints that if taken into account, then the casino will have an impressive credibility score. There are incidences where players have been accused of foul gameplay, and their funds have been seized without proper determination of the case. Some players accused of breaching bonus terms without appropriate resolution can compromise the good relationship with the casino. Some players were denied their money after fulfilling the wagering requirements without establishing the uncertainties of the case. The casino should also be improved on the live chat support because it is not available 24 hours. If all these complaints are addressed, then the Chilli casino will rise to be one of the industry's best casino platforms.
Final thoughts
It is true to say that players will have good gameplay using Chilli casino. This is attributed to its partnership with multiple suppliers who have made it possible to provide a wide range of games giving players a chance to select their choice games. Some exclusive bonuses and promotions are redeemable once you meet the wagering games requirements. The withdrawals and deposits can be made securely using various platforms, and the security team will have to approve your transactions to ensure your money is safe. The site has a well-designed interface, and it is operated by BGO entertainment limited, licensed in the UK. Its partnership with various developers has made all the players have a wonderful experience through a mobile functionality that allows players to access the website using mobile phones.
Chilli casino also offers more online slots that make it entertaining for players who enjoy progressive jackpot. The casino's reputation has attracted more players on board and has given them a chance to earn up to 150 free spins upon the first deposit of approximately 150 euros. There are also tones of rewards and making Chilli casino a perfect place for you. If you are new to casinos, then Chilli will help you to sharpen your gambling skills. It is a site that has been verified and proven to be legitimate.