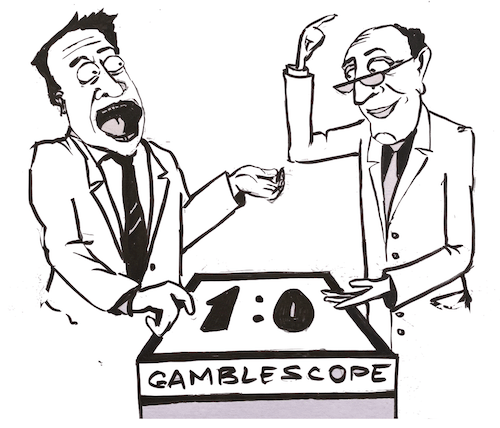 Gambling has played a big part in society since time began, all leading to the establishment of high-street bookmakers in the 1960s. Since then, mainstream bookmakers have dominated the sports betting industry with shops in every town before venturing online in the 1990s. Bookmaker's profits looked set to expand exponentially until Betting Exchanges emerged at the turn of the century. June 2000 to be precise when Betfair came on the Sports Betting scene. But what is a betting exchange, and how are they different from the traditional bookmaker? This article explains the difference between the two, how and why you should use one, and the major platforms available.
Before we do, here is a quick guide to some terms we will be using in this article.
Sports Betting Terminology
A Back Bet: Placing a bet on a selection to win

Lay Bet: Betting on a selection to Lose.

Price Drift: Movement in the price of betting odds.

Cashing Out: Ending the bet before the event is completed.

Edge: A technique or approach that creates a profitable advantage over the rest of the market.

Pundits: An expert in a particular field of sports.
The Difference Between a Bookmaker and A Betting Exchange
Betting Exchanges and bookmakers are not the same things. Bookmakers lay odds on the outcome of sporting events and invite bettors to place a bet (A Back Bet) at the odds they publish (A lay bet). Bookmakers have been laying and taking bets in this way since they came into existence. The biggest problem with this arrangement is that there is an apparent conflict of interests. Sports bettors are competing directly with the bookie. Bookies, therefore, don't want you to win. Also, they have no interest in offering you the best odds other than which is enough to attract your business.
A Betting exchange is not a bookmaker. It is a platform that allows sports bettors to back and lay bets between each other. In this arrangement, a person that lays a bet becomes the bookmaker. Cutting out the middleman in this way results in better odds and potentially higher profits. On a Betting Exchange, there are no conflicts of interest since the platform takes a small commission on every winning bet placed. If anything, they want you to win in the hope you will wager more bets. Because of this, a Betting exchange is no different from any other exchange, like the stock exchange, for instance. You have multiple markets (football, horse racing, tennis etc.). Sellers will lay a bet, and buyers who will back a bet.
Advantages of Using a Betting Exchange
Better Odds than a High-street Bookmaker
One of the most significant advantages of using a Betting exchange over a traditional high-street Bookmaker is that they offer better odds. In comparison, they can sometimes be as much as 25% better. More favourable odds make a big difference in overall returns to someone who places sports bets regularly. Since this is the case, exchanges have put much pressure on Bookmakers to be more competitive in recent years. Also, it is still possible to find even better odds with base (AKA Sharp) bookmakers, who trade in volume bets with highly reduced profit margins. Consequently, Asian bookmakers like Pinnacle, SBOBET, and 18 Bet can offer even better odds than a Betting Exchange. However, it is not so easy to open an account for westerners and individuals.
You Can Back and Lay Bets
Bookmakers only allow you to back a winning bet. At a betting exchange, you can back and lay bets. Ultimately, this provides the sports bettor with a greater range of betting options since that can bet on both a winning and losing outcome. Besides, many more strategic betting opportunities to manage risk become possible. For example, you might want to back a particular tennis player to win a tournament. If your favourite makes it to the quarter-finals, their odds of winning will be much shorter. You can then lay a bet that they don't win (Hedging). Of course, doing so will come at the expense of some of your profit should they go on to win. But you also eliminate any risk of a loss. Ultimately, you will also guarantee a profit regardless of the outcome.
Trading Possibilities
Similar to the stock market, Betting Exchanges offer the opportunity to sell a position anytime and make a profit by buying low and selling high. Sports trading is a more sophisticated form of sports betting since it focuses on movements of prices (odds) rather than the actual outcome of a match, competition or sporting event. Sports trading, therefore, makes it possible to profit even before the sporting event has concluded. There are many ways to trade. Typically, however, a sports trader might place a bet when they see value at a price and anticipate a change in odds.
For example, a trader might want a lay bet on a horse at 3.55 in anticipation that the price will drift. Before the race starts the price drifts to 4.5 and a Back bet is placed. The trader can now cash out guaranteeing a profit.
Availability of Trading Tools
Exchanges such as Betfair offer tools to help sports bettors and traders gain in-depth data insights and market trends. Correct use of such tools provides an edge that can be exploited by anyone using these platforms. This is far more insight you will get from your standard bookmaker. Traditionally, punters relied on angles such as racing tips provided by pundits. Such tips are subjective and little more than an educated guess. Trading tools offer significantly more objectivity and can help traders exploit an edge and gain more substantial profits.
More Choice and Flexibility
Betting exchanges provide choice and flexibility. Not only do betters have a broader range of sports events to bet on (markets), more types of wagers are also available. Altogether, this allows sports bettors to take a much more strategic approach. Bookmakers tend to be inflexible. They offer odds, and you either accept them or not. In a betting exchange, you have the flexibility to propose a wager at the odds you want. If someone accepts, the stake is immediately deducted and the bet is on. It is also worth mentioning that a betting exchange will never close your account, even if you win on every bet you make.
How to Use A Betting Exchange
So now you know what a betting exchange is, we will show you how to use one. User interface (UI) differences aside, the process of using a Betting exchange amongst the major platforms is very similar.
Steps to Placing a Wager
Open Account: First things first, you need to open an account with the Exchange you want to use. This will enable you to make a deposit, make bets and withdraw winnings. For legal reasons, you will also have to fulfil some kind of age verification process.
Deposit Funds: Once your account is open; you will need to deposit funds to get started. Now you are ready to make bets.
Find Your Market: Betting Exchanges offer a massive number of markets. Use tabs available to find the market and event you want to wager.
Select Bet option: Unlike a sportsbook, an exchange allows you to back or lay a bet. Highlighting a selection (as shown above at 1.68) brings up a betting slip. Sportsbooks only offer fixed odds. On a betting exchange, you can choose the odds you want to back or lay. If we're going to lay this bet at 1.68, you can wager as much as £745 (in this example) at these odds. If we then decide to change the odds to 1.75 (in our favour, as it is a lay bet), there might be only £30 to wager.
It is important to note that when backing and laying bets on an Exchange, we can select any odds we want to wager, but there is no guarantee that your bet will be matched. If your wager is still unmatched by the time the event ends, you are refunded the stake.
Keep in mind that more money will go onto an event as the start draws closer, providing a better chance that your offer will be matched. The odds will a change too, providing cash out options. It is this very movement in prices that traders exploit.
Sports trading strategy is beyond the scope of this article. Still, if you want to learn more, there are plenty of tuition guides available online.
The Main Betting Exchanges
At present, there are four major Betting Platforms available. They all have their unique advantages and drawbacks. The best option to choose much depends on where you live in the world, the sports markets you want to enter and personal preferences.
Advantages:
Established in June 2000, Betfair was the very first betting Exchange. Also, many consider it the best, which mainly comes down to the fact that they have the most members of any exchange. More significant platform activity results in higher liquidity. This brings many benefits, such as more sports and markets, better odds and increased investment in sports trading technology. In respect of the last point, Betfair makes available an API that allows third-party tools to integrate into its platform. This technology gives the platform more trading opportunities than its competitors.
Disadvantages:
As good as it is, using Betfair does come with a few drawbacks. The platform has been known to crash from time to time. It is getting better, but still leaves something to consider if you are a trader. Betfair is also the most expensive Exchange to use, charging 5% on all winning bets. Significantly, they also impose a Premium Charge of 20% earnings on the most successful traders (the top 0.5%).
Advantages:
Smarkets is the most recent Exchange to enter the arena but is rapidly becoming Betfair's biggest competitor. It has been able to achieve this by focussing on areas where Betfair is weakest, specifically commission rates. Smarkets charge only 2% on winning bets and charges no premium to high-volume traders. This gives the platform much liquidity for expansion into new sports markets. The platform is not lacking in this department either. Smarkets offers a good range of markets as well as unique betting opportunities not available on other exchanges, such as politics and celebrity bets.
Disadvantages:
Similar to the other Betting Exchanges, Smarkets is playing catch-up on Betfair. In comparison, the platform is a lot more simplified, and it lacks the API integration tools that Betfair has.
Advantages:
Launched around the same time as Betfair, for many years BETDAQ was considered its closest rival. The platform offers a similar user experience to Betfair and is the only other Exchange that provides API integration. To be fair, it has always been one step behind Betfair in terms of liquidity, but this gap was bridged to some degree when Ladbrokes took only 2013. The Exchange is a good option for punters new to the betting exchanges, since it offers excellent odds and smaller risk with plenty of bonuses and promotions on a good range of sports.
Disadvantages:
Like Betfair, BETDAQ's commission fees can be as high as 5%, but it can also drop to as low as 2% on winnings depending on the volume of bets placed. It also has fewer markets available than the other exchanges, which includes in-play markets.
Advantages:
Matchbook is considered by most to be the least-largest player in the market but still brings a few unique benefits that its rivals lack. First, it provides an excellent user experience with an easy to use interface. It is also considered a perfect option for international bettors with the inclusion of multi-currency support with excellent liquidity in American sports markets.
Disadvantages:
The companies headline commission rate of 1.5% seems very enticing at first glance. Still, unlike other exchanges, you will pay on both winning and losing bets. Also, API integration is not available, resulting in a lack of third-party integration tools for sports betting traders and advanced betting.