Betzest Casino Review
Stunning Game Selection and Consistent Bonuses in Play at Betzest
Since 2018 Betzest has offered a casino with a huge game selection, many smaller promotions, and an excellent sportsbook section. The casino feels great to use, and Betzest is a stable place to play. They offer a steady diet of promotions that cater to smaller size gambling budgets that are spread out instead of being giant. This is a fine choice of casino, especially if the bonus structure suits the player.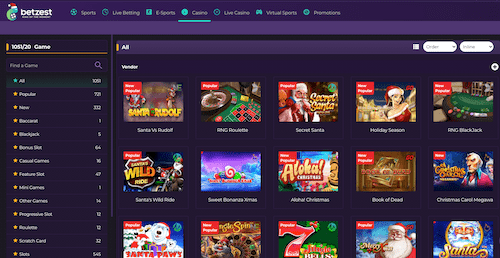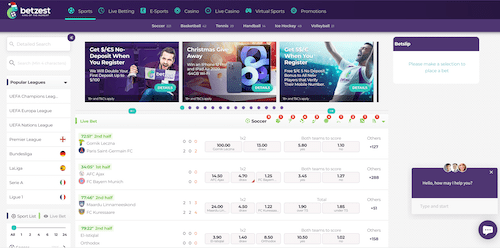 User Experience
The website is designed with a darker hue to it that makes using it feel like a night at the casino. The casino games themselves offer choice and live casino offers a variety of nice visuals. The sportsbook section of the website offers scores and lines that are updated without refreshing. The casino feels upbeat and exciting and gives a good feeling about a gambler's prospects here.
Games and Software
Betzest offers slots, roulette, baccarat, blackjack, bingo, keno, video poker, and scratch cards. They also offer esports, virtual sports, and live casino featuring blackjack, poker, and roulette. There is variety here with the casino featuring over 1,000 total games. This is one of the highlights of the casino because this is great selection.
License Check: Scam or Not?
This casino is licensed through the Malta Gaming Authority, which makes it a legitimate company. The casino has been in business for a couple of years without going under, and its Alexa ranking suggests that the casino is stable. The casino is legal in 171 countries, through not in the United States.
Deposit and Payout at the Casino
Deposits should take up to ten minutes to reach an account. Withdrawals will happen in window of 24 hours, but this is not a guarantee. The minimum withdrawal amount is usually ten Euros, and players can make two withdrawal requests a day. Withdrawals are allowed when the player wagers the amount deposited, and for real money withdrawals the amount must be wagered at 1.3 odds or higher onceover. The currency the casino uses is the Euro, which can be used through various e-wallets, Visa, MasterCard, and wire transfer.
Verification of Customer
Information held by the casino must be identical to the information provided to make a deposit, and withdrawals can only be given to the person named as the account holder. Withdrawals are checked for discrepancies before being sent out, and the casino reserves the right to request additional documentation from customers. Betzest has the authority to acquire identity verification through any procedure or any measure it sees fit. They will report any known or suspected money laundering to the Financial Intelligence Analysis Unit in Malta.
Bonuses and Promotions
Betzest offers a ton of promotions and bonuses to suit newcomers and returnees both. The casino offers both sportsbook promotions and casino promotions. The sportsbook promotions include all kinds of sweeteners like a free no deposit bet for verifying a phone number with the casino. Promotions continue with double deposit and deposit happy hours. There is also an e-sports promotion and a Formula 1 promotion. Casino promotions include 15% cashback on losses up to 150 Euros on the weekend and a 100% deposit matching promotion for the welcome bonus. There is also a couple of Christmas giveaway promotions where gamblers can win an iPhone and one million free spins.
What You Will Like
The game selection is excellent and leaves little to be desired. There are dozens of slots, and video bingo is a nice touch. The bonus structure is good for someone trying to be sensible with their money, cashback on losses is huge for that. There is gambling on e-sports, and that matters to some people. Payments are made quickly, and that is enjoyable. The casino is stable as it has been in business for a couple of years and has a good Alexa ranking, which indicates stability.
What Could Be Improved
It would be nice for some players if the casino offered a larger bonus rather than its current spread out structure. The website feels pleasant, but purple is not going to be popular with everyone, though they are going for regal with the color scheme. The casino is available in a lot of places, but some important countries with a lot of people are left out.
Final Thoughts
Playing at Betzest would make sense for those seeking sports gambling or a steady diet of smaller bonuses while playing. The casino looks good and feels exciting. It is a safe place to gamble, and that is important to some. The biggest upside is a really large selection of games to play, including some not seen everywhere else. At the end of the day, the game selection and the safety as a place to gamble makes Betzest recommended.