Paradice Casino Review
Paradice Casino is possibly the most unusual gambling platform we have ever encountered. Established as a new venture in 2018, it is already generating extraordinary high traffic levels. All the more impressive when you consider it has achieved this without a huge marketing campaign and little social media presence at the time of writing this review.
So what makes it unique? First of all, Paradice.in is of the new breed of purely crypto casinos. A platform built on the blockchain inherits several significant advantages over the traditional gambling platforms, arguably the most beneficial of which is its ability to publish games that are 'Provably Fair'. Deposits and withdrawals in Bitcoin, Etherium, Litecoin, Doge and Dash are instant, and limits for depositing and withdrawing cash are virtually non-existent. Another notable mention is its incredibly low house edge of only 0.5% which places it in the same league as video poker in terms of casino games with the best player advantage.
Putting things into perspective, this is not a traditional casino by any stretch of the imagination, so don't expect to play any of the usual games of chance at this online casino. More to the point, don't presume to play many games at all. Paradice casino as of 2020 is a work in progress and is limited to one game only – their Provably Fair Dice Game.
The Provably Fair Dice Game
The provably fair dice game is an easy game to learn and play. You simply choose a defined range of numbers to bet on from between 1 – 100 using a slider. Select your bet size in the cryptocurrency you have deposited and roll the dice. A winning bet is multiplied by the odds of winning as per your number selection (called the multiplier), but if you guess wrong, you will lose your entire stake. Here's an example: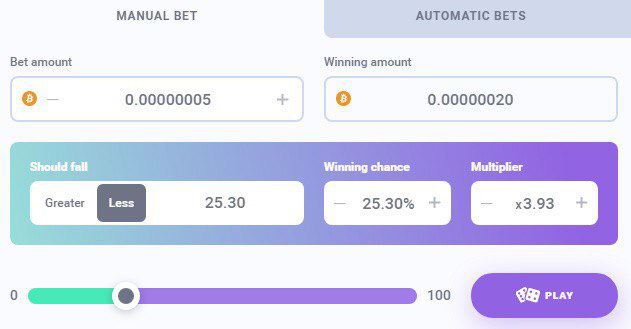 You bet that the number of the dice roll will be between 0 and 25.30 (in this example).
Your chance of winning is calculated for you at 25.30% and returns a multiplier of 3.39
On a stake of 5 satoshis, a win returns 5 x 3.93 = 19.65 satoshis.
The game also allows the player to reverse the bet and wager that the number will be between 25.30 – 100, handy if you have been on a long winning streak and anticipate a change in fortune. The stand out feature of this game is the ability for a player to decide the precise level of risk/reward by setting a betting range with the desired multiplier. An auto-bet feature is also available which allows players to configure an indefinite number of bets automatically. The Dice Game also has the advantage of being based on random number generators (RNG's) which are Provably Fair. In a nutshell, this means that every individual bet can be mathematically proven by the player to be random and unmanipulated.
Bonuses and Promotions
Players new to cryptocurrency casino can get off to a flying start with Paradice Casino's Bitcoin faucet reward system. This is a bonus intended for newcomers which offers an unlimited supply of satoshis to play for free in exchange for completing a captcha or task as described by the casino. Before you rush to log in, it should be noted that the amount awarded is 30 satoshis every 30 minutes (where one satoshi equals 0.00000001 of a Bitcoin). Yes, that's one hundred millionths of a Bitcoin, but all the same, it gives you a chance to play for free and the opportunity to amass cryptocurrency from zero.
As mentioned earlier in this review, Paradice.in currently has a house edge of only 0.5%. This is actually a new launch promotional incentive. As good as it is, there is no telling how long this promotion will last so if you want to take advantage of this offer it is highly advisable to visit Paradice Casino now while it is still available.
Pros and Cons
Pros
Unlimited free crypto bonuses

Instant withdrawals and deposits

An incredibly low house edge of 0.5%

Player controls desired risk level

Very easy to learn and play
Cons
Only one game available

Unlicensed site
Conclusion
There are a lot of positive things to be said about the Paradice Crytocurrency Casino. We liked its innovative approach in bringing a new type of game to the arena and making it accessible to players that may not yet own crypto. We also liked the fact that players have full control over risk levels while playing the same game with the chance to multiply on a free bet. The casino offers live chat support with further options to contact via email and public chat forums. All this is aside from the benefits purely cryptocurrency casinos offer, such as unrestrictive deposit and withdrawal methods, provably fair RNG's and better bonuses.
Paradice Casino is currently unlicensed, so you play at your own risk. We would also definitely like to see more games which we understand are in the pipeline, along with further improvements to the design and user interface. If you enjoy traditional casino games that require skill and strategy, then this casino is unlikely to impress though worth exploring for anyone who enjoys fast-moving games of chance and wants to play in cryptocurrency.