Pokie Place Review
Pokie Place Casino is a very new casino, although, since its establishment in 2020, it has been, on the whole, very successful. The fantastic graphics, a wide range of games and fun user experience work to draw in new users. Although the payment and withdrawal methods are somewhat limited, Pokie Place is a new casino that continues to change all the time. Pokie Place Casino is set up to be a leading casino within a few short years. Variety and quality of experience are two very important factors in the success of a casino and the range of this casino promise success.
User Experience
The user experience is one of the high points of Pokie Place Casino. It is obvious from the clean and helpful design that this casino was created with future users in mind. Although the casino was created in 2020, and some things are still a little off, the site itself is definitely up to snuff. There is a live chat, but there are sometimes issues with customer service. The website itself may be close to perfect, but the customer management is lacking. Luckily, the broad majority of the problems are fixed relatively quickly with a little patience and persistence. Sometimes talking with customer service is frustrating, but that is similar to most other businesses. Overall, if you do not have any problems, the user experience is a dream. If you do, it is a little more frustrating, but on the whole, worthwhile.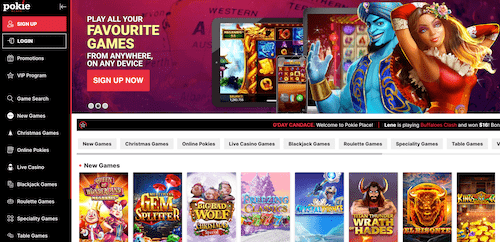 Games and Software
There are a variety of games available to be played at Pokie Place Casino. Some of the top software providers include Blooming Games, Evolution Gaming, Habanero, Lucky and Quickspin. Pokie Place Casino offers slots, roulette, live games, video poker, bingo, baccarat, blackjack, keno, poker and more. Live games can make or break a casino. Live games require more work and more coordination, so if a casino is not as good as other casinos available online, it will probably not offer live games. This factor is something that sets Pokie Place Online Casino apart from other online casinos. It is the main draw for players. The enjoyment that players can get out of these games is further enhanced by the promotions and bonuses that are perpetually offered by the casino. If none of the games strike your fancy, a good deal on them will certainly entice you to play, especially if you end up winning big.
License Check: Scam or Not?
Pokie Place Casino has a license with Curacao eGaming. The Alexa rating for Pokie Place casino is 136,221. This casino was established in 2020, so for a very new site, this is a pretty good rating. In addition, most of the issues people have had with the casino have been processed and fixed. It seems to be a legitimate casino, with a reasonably safe atmosphere for interested customers looking for something new to try. Although this is a very new casino, it seems to have quickly gotten its feet on the ground, which is made obvious by its relatively good rating.
Deposit and Payout at the casino
Players can deposit through Visa, MasterCard, Neosurf or Bitcoin. The minimum deposit is 20 Euros. Players can withdraw their winnings through either Bitcoin or a Wire Transfer, and the minimum withdrawal is 50 Euros. There is a withdrawal limit. Each person can transfer up to 10,000 euros every ten business days. Since the casino has only been open for a small amount of time, the withdrawal periods for each method may vary; on the whole, the casino is very reliable when it comes to withdrawal and payment.
Bonuses and Promotions
Bonuses and Promotions at Pokie Place Casino are reliable and fun. Some of the most popular bonuses and promotions include the Welcome Package, the No Deposit Bonus, the First Deposit Bonus and the Reload Bonus.
The Welcome Package grants the player up to 3000 euros depending on the first five deposits. It is available for every new player.
The No Deposit Bonus grants the player up to 50 free spins with no deposit required. You have your pick from their five most popular games, Chili Desert, Farm Ville, Sheriff's Justice, Alchemy Book and Wolf's Quest.
The First Deposit Bonus awards the player up to 1000 extra Euros, matching the player's first deposit.
The Reload Bonus gives the player a daily bonus of 20% on your deposit, every deposit after your fifth deposit on the site.
Between all of the bonuses, you get a bonus with nearly every deposit.
What You Will Like
Although this casino is new and requires a bit of patience, the wide selection of games is truly impressive. Any visitor to this casino will leave thoroughly excited about their experience, from graphics to gameplay, to the variety of games, to user experience. There are other aspects that are not as exciting because this casino has a few kinks to work out, but the amazing gameplay more than makes up for it. In addition, there are some sweet promotions going on at all times, which is another draw for new players. Pokie Place is a new casino, so it has to work hard to draw in new players instead of relying on regulars. This fact works out well for players that are looking for good deals, promotions and bonuses. Any player will love these aspects of Pokie Place Online Casino.
What Could Be Improved?
There are very limited means of paying and withdrawing money at Pokie Place Casino. Although there are ways, it is off-putting to get excited about taking your winnings, only to be forced to move around money in different accounts that you do not normally use. If you do not use the methods that they approve, this could be very frustrating. In addition, the countries in which someone can access this casino are limited. This problem can be frustrating for those excited about playing at this new online casino, only for it to be unavailable in their country. Finally, since this is a new casino, some kinks in customer service and management still need to be worked out. This problem is one of the biggest complaints from would-be players who are frustrated with the casino. If players are patient, though, this should not be a huge obstacle to people who are looking to play here.
Final Thoughts on Pokie Place Casino
Above all, this is a casino that is doing excellently for being such a new casino. It is not as reliable or predictable as other casinos, of course, but it is fresh and new, and it has a surprisingly large amount of games.
The user experience is excellent, and it is clear that the team that designed the casino took time to make it the best it possibly could be for the players. There is a wide variety of games from a wide variety of providers. This site is a casino designed for ease of use for the player as opposed to convenience for the designers and the management.
On the other hand, there are still some things that could be improved. The countries that have access to this casino are limited, and there are some issues with customer service that will likely continue to improve as the casino matures.
Overall, this casino is definitely worth a try.