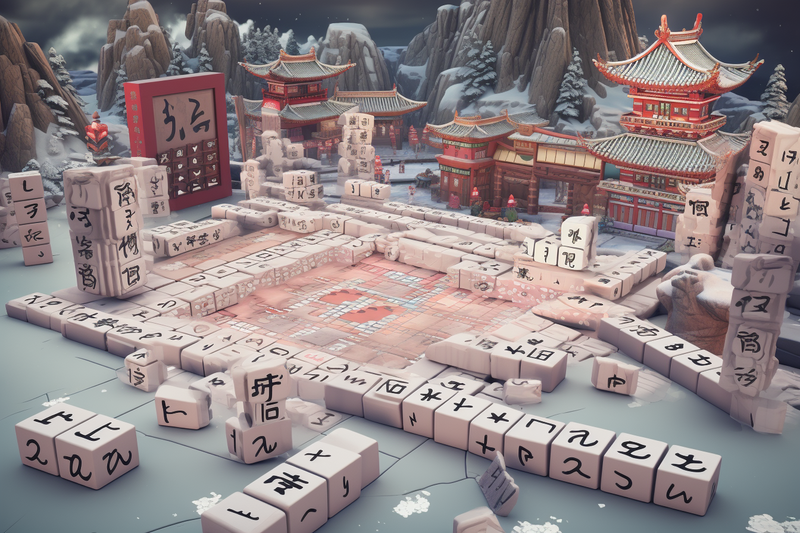 This article exploited the game of Mahjong, showing you how to play, winning tips and strategies and the best online Mahjong casinos to play real money games. So, grab a seat at the virtual table, shuffle the tiles, and embark on a thrilling journey, as we uncover the secrets of online Mahjong.
Top Mahjong Online Casinos in Your Country
What is Online Mahjong?
In a world where technology has permeated nearly every aspect of our lives, it's no surprise that traditional games have also found their place in the digital realm. One such game that has transitioned into the online sphere while maintaining its cultural significance is Mahjong.
With roots dating back centuries, this ancient Chinese pastime of Mahjong is a traditional Chinese tile-based game that originated in the 19th century. It is played by four players and like online poker, it involves skill, strategy, and a bit of luck. The game is typically played with a set of 144 tiles, which are intricately designed and divided into various suits, honours, and bonus tiles.
The objective of Mahjong is to create sets and combinations of tiles, ultimately forming a winning hand. Players take turns drawing and discarding tiles to create sets such as sequences (consecutive numbers of the same suit) and three-of-a-kind sets (three identical tiles). The game also incorporates special tiles and scoring systems, adding layers of complexity and strategic decision-making.
How to Play Mahjong Online
Playing Mahjong online opens up a world of possibilities and allows enthusiasts to indulge in the captivating game from the comfort of their own homes. Whether you're a seasoned player or new to the game, here's a step-by-step guide on how to play Mahjong online:
Choose a Platform: Start by selecting a reliable online Mahjong platform or website that offers a wide selection of Mahjong online games. Look for platforms that provide game variations to cater to your preferences.

Sign Up and Create an Account: Register for an account on the chosen platform. This may involve providing some basic information and agreeing to the platform's terms and conditions.

Select a Game Variation: Explore the range of Mahjong online games available on the platform. Choose a game variation that suits your skill level and interests.

Familiarize Yourself with the Rules: Before diving into a game, take some time to familiarize yourself with the specific rules of the chosen Mahjong variation. Pay attention to how sets and combinations are formed, the scoring system, and any special rules or tiles unique to that variation.

Start the Game: In each turn, you can draw a tile from the wall and discard a tile from your hand. The goal is to create sets and combinations with the tiles in your hand, such as sequences or three-of-a-kind sets, in order to form a winning hand.

Declare Mahjong: If you have a winning hand, declare "Mahjong" to end the round and claim victory. The platform will typically validate your hand and award points accordingly.

Continue Playing or Explore Other Games: After a round ends, you can choose to continue playing Mahjong online or explore other game variations and challenges offered by the platform.
Popular Mahjong Online Game Variations
While the fundamentals of the game remain intact, online adaptations have introduced innovative variations, captivating themes, and captivating visual designs. From classic Chinese Mahjong to Japanese Riichi Mahjong, each variant offers its own set of rules and unique gameplay, enticing players to explore new horizons and expand their repertoire.
Chinese Mahjong
This is the most common and traditional form of Mahjong. It features a set of 144 tiles and follows the classic rules of the game. Chinese Mahjong emphasizes strategic thinking, pattern recognition, and decision-making skills. It offers a balanced gameplay experience and is suitable for both beginners and experienced players.
Japanese Riichi Mahjong
Known for its fast-paced and intense gameplay, Japanese Riichi Mahjong adds an extra layer of complexity to the game. It introduces unique elements such as the concept of "riichi," which allows players to declare a ready hand and gain certain advantages. Riichi Mahjong also features specialized scoring rules and additional tiles, making it a favourite among enthusiasts seeking a more challenging experience.
American Mahjong
This variation is a blend of traditional Chinese Mahjong and Western influences. American Mahjong uses a set of 152 tiles and incorporates special hands, jokers, and the Charleston mechanic, where players can exchange tiles with each other. It offers a diverse range of hands and scoring options, providing players with strategic choices and opportunities for strategic play and collaboration.
Mahjong Solitaire – What is it and What's the Difference
Mahjong Solitaire is a single-player puzzle game that is based on the tiles and symbols used in the traditional Chinese game of Mahjong. However, it differs significantly from the multiplayer version of Mahjong played with multiple players around a table.
In Mahjong Solitaire, the player's objective is to clear a layout of tiles by matching pairs of identical tiles. The tiles are arranged in various formations, such as a pyramid or a turtle shape. The game starts with a predetermined layout, and the player must strategically select and eliminate matching pairs of tiles until all the tiles are cleared or no more moves are possible.
Unlike traditional Mahjong, Mahjong Solitaire does not involve the complexities of building sets, making strategic decisions, or competing against other players. It is a solitary game focused on solving puzzles by matching pairs of tiles based on their patterns and symbols. It tests the player's visual perception, memory, and problem-solving skills.
One key difference between Mahjong Solitaire and the traditional Chinese version of Mahjong is that the former does not involve the element of luck or the need for a combination of tiles to form winning hands. Mahjong Solitaire is purely a puzzle-solving experience with a set layout, while traditional Mahjong is a strategic game that requires players to collect specific sets of tiles to declare victory.
Another distinction is that Mahjong Solitaire is commonly played on electronic devices, such as computers, tablets, or mobile phones, whereas traditional Mahjong is played with physical tiles on a table.
Best Mahjong Software games
When it comes to online Mahjong games, there are several software companies that provide high-quality gaming experiences. Two prominent names in the industry are Microgaming and EveryMatrix. Here are some of the notable software companies known for supplying online Mahjong games:
Microgaming: Microgaming is a leading provider of online gaming software and has a strong reputation in the industry. While they are primarily known for their extensive range of online slots and casino games, they also offer Mahjong games with stunning visuals, immersive gameplay, and user-friendly interfaces.
EveryMatrix: EveryMatrix is a renowned provider of iGaming solutions and platform services. They offer a wide selection of online casino games, including Mahjong variants, with a focus on delivering a seamless and engaging player experience. Their games often feature impressive graphics, smooth gameplay, and innovative features.
AsianLogic Limited - Asian Logic Limited has created a strong presence in the industry, particularly in the realm of online Mahjong games. Their Mahjong software showcases their expertise in crafting immersive gameplay, captivating visuals, and user-friendly interfaces for players to enjoy Mahjong games online. Asian Logic Limited offers players a wide range of engaging and authentic Mahjong experiences on various online platforms.
Top Tips and Strategies for real money games
If you're looking to increase your chances of winning real money in online Mahjong games, here are some top tips and strategies to keep in mind:
Understand the Rules: Before diving into real money Mahjong games online, ensure that you have a solid understanding of the specific rules and variations of the game you're playing. Familiarize yourself with the scoring system, special hands, and any unique rules that may impact your gameplay.

Practice and Gain Experience: To improve your skills and gain confidence, dedicate time to practising Mahjong online. Many platforms offer free or low-stake games where you can hone your strategies and familiarize yourself with different scenarios. Take advantage of these opportunities to refine your decision-making skills and enhance your overall gameplay.

Observe and Adapt: Pay attention to the moves and discards of your opponents in online Mahjong games. This can provide valuable insights into their strategies and the tiles they are likely to be collecting. Use this information to adjust your own gameplay, such as discarding tiles that your opponents may be waiting for or targeting specific sets that they may not be focusing on.

Plan Ahead and Manage Your Hand: Develop a strategic approach by planning your moves ahead of time. Consider the tiles you need to complete on certain sets or hands and try to calculate the probability of drawing those tiles. Additionally, manage your hand by keeping it flexible and adaptable. Avoid committing too early to a specific set or hand, as it may limit your options later in the game.

Stay Calm and Patient: Online Mahjong games can be fast-paced and intense, especially when real money is at stake. It's important to stay calm and patient throughout the game. Avoid rushing your decisions or succumbing to impulsive moves. Take your time to carefully assess the situation, weigh your options, and make calculated moves that align with your overall strategy.
By applying these tips and strategies while playing Mahjong online, you can enhance your chances of success in real money games. Remember, practice, observation, planning, and a composed mindset are key elements in improving your gameplay and increasing your winnings.
Free Mahjong vs Real Money games
Playing Mahjong online can be an enjoyable experience, whether you choose to play for free or for real money. However, there are key differences between the two options that players should consider. Let's explore the distinctions between playing online Mahjong for free and playing for real money:
One of the primary differences is the presence or absence of monetary stakes and rewards. In free online Mahjong games, there is no real money involved. Players can enjoy the game purely for entertainment purposes, honing their skills, and exploring different strategies without the pressure of financial consequences. On the other hand, playing Mahjong online for real money involves the potential to win or lose actual funds. This adds an additional level of excitement and risk, as players have the opportunity to compete for cash prizes and experience the thrill of a financial reward.
Both free and real-money online Mahjong games provide an avenue for skill and strategy development. However, the nature of play can differ. In free online Mahjong games, players often face opponents of varying skill levels, including AI-controlled opponents. This can be a great environment to practice and improve gameplay techniques, test different strategies, and experiment with different approaches without the fear of losing money. Real-money Mahjong games, on the other hand, typically attract more serious and experienced players, creating a higher level of competition. This can lead to more challenging gameplay and the need to refine strategies to compete effectively.
Playing online Mahjong for real money involves a level of risk and responsibility that does not exist in free games. When real money is at stake, players need to manage their bankroll wisely, set limits, and exercise self-control to avoid excessive losses. It's important to be mindful of one's gambling habits and play responsibly to maintain a healthy balance between entertainment and financial considerations. In free online Mahjong games, players can focus solely on enjoying the game without concerns about financial implications.
Both free and real-money online Mahjong games offer a wide range of options in terms of game variations, graphics, and features. Players can explore different themes, layouts, and gameplay mechanics regardless of whether they are playing for free or real money. However, it's worth noting that real-money Mahjong games may offer additional features such as progressive jackpots or exclusive tournaments that are not available in free versions.
Ultimately, the choice between playing free online Mahjong games or opting for real money play depends on individual preferences and goals. Free games provide a risk-free environment for casual enjoyment and skill development, while real money games offer the potential for financial rewards and a more competitive experience. It's important to assess personal circumstances, consider responsible gambling practices, and choose the option that aligns with your gaming objectives and comfort level.
Final Thoughts
Online Mahjong games offer a vibrant and engaging experience for players seeking to enjoy this classic tile-based game from the comfort of their homes. Whether you are a novice looking to learn the ropes or an experienced player aiming for real money wins, the best online Mahjong platforms provide a wide variety of game variations, stunning graphics, and immersive gameplay.
Why not embrace the excitement, challenge yourself, and enjoy the best online Mahjong has to offer at some of the top Mahjong casinos online?

And while you are at it, grab a top online casino bonus to boot from one of the best online Mahjong casinos listed on this page.